New Poultry Health Publication Launched
US - 'Poultry Health Today' is a new web site and magazine sponsored by Zoetis Inc. to inform the US poultry industry about new research and trends as well as ideas and practical insights for improving flock care, welfare and performance.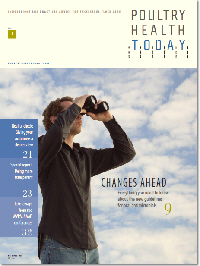 Launched at the 2014 International Production & Processing Expo (IPPE) in Atlanta last week, the first issue and the web site, poultryhealthtoday.com, have a cover story that provides detailed coverage on FDA's new guidelines for antimicrobials and what they mean to the poultry industry.
There is also a special report called 'Being More Transparent', which provides tips for talking with the customers and the media about antibiotics and other production inputs.
One of the magazine's regular features will be 'On the Docket', offering an objective overview of current antibiotic legislation before Congress in the US so that readers can share their opinions with law-makers.
Poultry Health Today also provides handy summaries of key poultry studies published in scientific journals and or presented at major conferences such as the American Association of Avian Pathologists and the World Veterinary Poultry Association.