Brazil's Poultry Exports to Decline as China's Growth Slows
BRAZIL - Brazil's export market is strongly affected by economic events in China, according to a joint Agricultural Outlook report from the OECD and FAO.
Brazil's agricultural exports to China have surged since 2000, especially in the last five years and the main exports are oilseeds, vegetable oil, cotton, sugar and poultry.
In 2014, about 71 per cent of total oilseeds exports (31 Mt), or 35 per cent of Brazil's total production, were exported to China, which also accounted for about 40 per cent of China's total oilseeds imports.
The export shares of vegetable oil and cotton to China in Brazil's total export were also high in 2014, at 28 per cent and 24 per cent respectively.
The export shares of sugar and poultry to China in Brazil's total export were smaller at 9.5 per cent and 6.4 per cent respectively.
After more than three decades of rapid growth, China's economy is entering a "new normal" with a lower growth path, and there have also been considerable declines in China's stock markets.
The Chinese government lowered its target growth rate to around 7 per cent for 2015 seeking more sustainable development.
The outlook report predicts that economic growth will continue moderating, falling to 4.2 per cent in 2024. As a consequence, Brazil's agricultural exports to China will slow down in the outlook period.
While oilseeds exports from Brazil to China will increase to 47 Mt in 2024, during the outlook period, the exports will grow by only 3.9 per cent p.a, compared with 18.9 per cent p.a. in the previous decade. Also exports of sugar, cotton and poultry are projected to expand more slowly than before.
Brazil's exports of vegetable oil to China reached a high of 0.95 Mt in 2012, but decreased sharply to 0.36 Mt in 2014. Considering China imports more oilseeds for domestic crushing, which will substitute for the import of vegetable oil, vegetable oil imports are expected to continue the downward trend to 0.2 Mt in 2024.
However, China faces many uncertainties in the future as its economy transitions, and its economic performance and consequent import demand will affect Brazil.
Assessing the impact of different economic scenarios
To assess the quantitative impacts, the report analyses two different hypothetical scenarios altering China's economic growth rate: an optimistic one in which economic growth each year is 25 per cent higher than in the baseline, and a pessimistic one in which annual growth is 25 per cent lower than in the baseline.
As expected, Brazil's agricultural exports are affected by China's economic performance.
The impacts occur not only directly through bilateral trade, but also indirectly through changing world prices, which are to varying degrees transmitted to domestic markets of all countries, including Brazil.
Under the higher growth scenario, the increase in Chinese imports will raise world prices, which will lead producers to increase their production and consumers to reduce their consumption.
The results show that the overall impacts on Brazil's production and total exports are positive. In general, Brazilian production will increase relative to other suppliers, as the supply of land is more elastic and there is greater scope to increase the intensity of production.
However, the impacts are almost opposite and symmetrical if China's economic growth is lower than in the baseline.
The impacts on Brazil's oilseeds market are the largest, followed by vegetable oil and sugar; the impacts on cotton and poultry seem modest.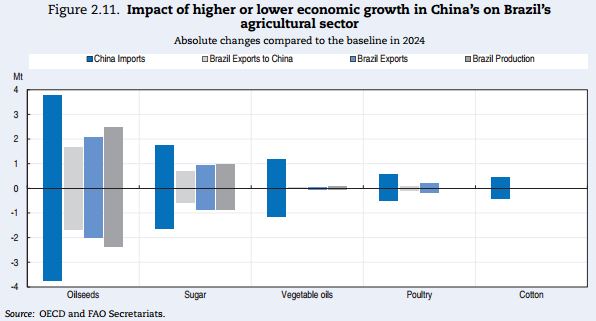 Further Reading
You can view the full OECD-FAO report by clicking here.