Specialists Explore New Options for Managing Flock Health While Defending Judicious Antibiotic Use
US - Growing demand for poultry raised without any antibiotics has put more pressure on veterinarians to find alternative yet dependable disease-control options, according to a panel of nine experts at a recent roundtable, "Poultry health: New challenges for a new era."
"We know all veterinarians in the poultry industry are committed to providing optimal care and welfare," Lloyd Keck, DVM, ACPV, a technical services veterinarian for Zoetis, told Poultry Health Today after moderating the roundtable.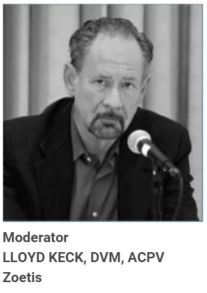 "The goal of this forum was to develop a better understanding of the new health challenges poultry companies face as they try to reduce or eliminate these FDA-approved antibiotics from their health programs."
Although it still accounts for a small fraction of the poultry market, antibiotic-free production is clearly on the upswing as producers respond to increased demand from consumers and large food vendors. according to published reports, dollar sales of poultry raised without antibiotics increased by 25 per cent during the 52 weeks ending January 25, 2015.
Veterinarians on the panel involved with antibiotic-free production cited increases in 7-day mortality as well as total bird mortality. they also expressed concern about the long-term sustainability and welfare implications of raising birds without antibiotics on a large scale, and the potential impact of antibiotic-free production on food safety.
Practitioner 1237-day mortality
At one major antibiotic-free operation, 7-day broiler mortality due to withdrawal of antibiotics in the hatchery increased 0.5 per cent on average, according to Practitioner 1, a veterinarian at a major US poultry company. Prior to that, mortality was consistent with industry averages — less than 1 per cent in the summer, a little more than that in winter and about 0.9 per cent to 1 per cent year-round. Panelists suspect that increased 7-day mortality is due to bacterial disease such as Escherichia coli.
"I have no data to support this, but I would hypothesize that eliminating the use of antibiotics in the hatchery might [also] have longer-term consequences and be associated with problems such as bacterial chondronecrosis with osteomyelitis, septicemia, vertebral osteoarthritis and infectious process," the veterinarian added.
Practitioner 2, who represented another leading US poultry company, reported seeing comparable upswings in 7-day mortality in antibiotic-free flocks: "we run about 1 per cent mortality with antibiotics in the hatchery and about 1.40 per cent without them."
After 8 weeks on an antibiotic-free program, a veterinarian from the third US poultry company represented on the panel reported seeing only a slight increase in mortality — 0.3 per cent at 7 days — but added that the season might have helped minimize losses. "of course, it was summer, which is normally the best time of the year for 7-day mortality. we'll see how this coming winter goes," Practitioner 3 reasoned.