Bács Tak, Duck Breeding in Hungary
HUNGARY - Bács Tak is a fully integrated waterfowl production company in Hungary. Petersime are proud to announce that Bács Tak is the first to choose Petersime's new Operational Excellence Programme™.
The facilities are situated in the south eastern part of the country, with headquarters in Mélykút.
They ordered new Petersime equipment, BioStreamer™ 12S and 4H plus HVAC, to extend their existing hatchery. The hatchery will start operating by the end of this year, thus increasing the yearly egg setting capacity up to 8.7 million.
Mr István Kiss, Managing Director of Bács Tak, attests: "We already have a very good experience with Petersime equipment in our current hatcheries.
"We have chosen to work with Petersime again, because we are convinced that they have the most experience with waterfowl incubation and there isn't a better incubator for ducks as the BioStreamer™ together with the Embyro-Response Incubation™ technology."
He continues to explain that a close follow up on his hatchery is very important. That is why they opted for the Operational Excellence Technology™ together with the Operational Excellence comfort package.
Petersime's new Operational Excellence Programme™ assists hatcheries by providing support, both remote and on site, through best practices. Check out www.petersime.com/operationalexcellence to discover how Petersime can help maximise your return on investment.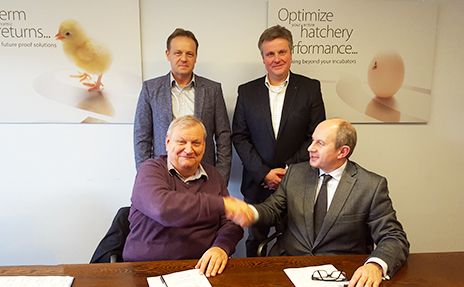 Mr István Kiss, Managing Director Bács Tak; Mr Zsolt Szegedi, Production Manager Bács Tak; Mr Michel De Clerq, Managing Director Petersime; Mr Jan Pauwels, Area Sales Manager
About Bács Tak
Bács Tak kft was founded in 1992 as a feed mill, by Mr István Kiss and his partner. In 1994 they started with duck fattening and now they are one of the biggest integrated duck production firms in Hungary.
The company consists of a feed mill, breeder farms, hatcheries, fattening farms, a slaughter house and a processing plant. They produce high quality, fresh, frozen and oven ready products.
More than 80 per cent of their production is destined for export. They have goose breeders and commercial farms as well and a significant goose production on the Hungarian market.