Ovoset Pro: New Generation Hatching Egg Packer
GLOBAL - Prinzen, specialists in egg handling and packing equipment, announces the introduction of their new generation of packer for hatching eggs: Ovoset Pro.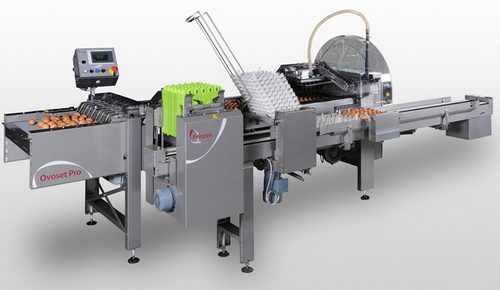 The machine offers an effective operating capacity of 30,000 eggs per hour. This is however setter tray depending. The introduction of the Ovoset Pro answers the high capacity need of larger breeder farms as well as hatcheries.
The various possible machine configurations all offer clear overview, full egg control and an ergonomic workplace for staff. The smart touch screen control panel increases user friendliness and provides operational information. Just like all the egg handling equipment from Prinzen, the machine is made from robust and durable materials. Special attention is given to specific mechanical and electronic parts to enhance the daily operation and make it extra suitable for hatcheries. Vital parts are easy accessible for cleaning, service and maintenance.
Combining with Ovograder
The Ovoset Pro makes a perfect match with the earlier introduced Ovograder. Grading of hatching eggs results in an improved hatching process and optimizes the uniformity of chicks. The Ovograder also offers an effective operating capacity of 30,000 eggs per hour. It can be set to select specific weight ranges, resulting in 4 pre-defined classes. Data can be retrieved via web browser or the integrated USB port and provides actual and daily information to keep track of the performance of the entire flock.
Optional equipment
Optional to the Ovoset Pro are the PS4 tray stacker, used when handling 30-cell trays, egg coding and egg inspection equipment. Tray conveyor belting and curves offer a compact machine configuration that fits in every farm house egg collection room. Even further automation is possible with automatic loading of setter trays in farm or setter trolleys for transport to the hatchery.
Value for money
With the introduction of the Ovoset Pro, Prinzen has responded to the needs of larger breeder farms and hatcheries, who now can choose the egg setting equipment that perfectly fits to their operation. The PSPC series will remain available for medium sized farms, offering a value for money machine for selecting and setting hatching eggs.