Transavia Affirms Strong Market Position with Petersime
ROMANIA - Transavia, in Romania, has a market-leading position in the domestic market in the manufacturing and sale of fresh poultry meat products.
Transavia is a fully integrated poultry producer, currently providing a full range of fresh and frozen chicken meat products, as well as further processed chicken products. With production facilities located in five Transylvanian counties (Alba, Sibiu, Bra?ov, Cluj and Harghita), Transavia aims for the highest standards in every process of manufacturing and sale of their products.
Petersime has been a long term partner of Transavia and is proud to be part of the expansion and renewal of their Sibiu hatchery. Transavia wanted to invest in state-of-the-art technology, which is why they have ordered new Petersime equipment. Constant investments and consolidated know-how are essential ingredients of Transavia's success recipe.
The hatchery will be fully operational by the end of summer 2016 and will then reach a yearly setting capacity of 32 million eggs thereby becoming the biggest operational hatchery in Romania.
Mr Ioan Popa, General Manager of Transavia, states: "At the time, Avicola Brasov was the biggest poultry producer of the country and the first Romanian company equipped with Petersime hatchers. When we found out about the good quality of the Petersime material, we eagerly invested in the same technology, because we wanted to offer our customers high-quality products. Six years ago we bought Avicola Brasov, so now Transavia became the Romanian leader of the poultry market."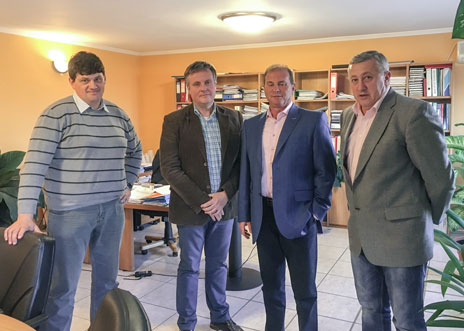 Mr Ovidiu Oprita (Technical Director Transavia); Mr Ioan Popa (General Manager Transavia); Mr Jan Pauwels (Area Sales Manager Petersime); Mr Silviu Popescu (General ManagerSipoServ – Petersime's distributor for Romania).