Avian Flu - Ceva Reveals Plans to Develop New AI H7 Vaccine During Latest Summit in Mexico
MEXICO - At the latest in a series of scientific summits, Ceva gathered experts from around the world to share the latest findings on the global threat posed by Avian Influenza (AI).
In a paradigm shifting paper published in 2015 - Vaccination against avian influenza: what has changed and what needs to be changed?(1) Ceva warned that the nature of avian flu had changed and that further spread and new outbreaks were inevitable, unless there was a significant shift to vaccination with new technology vaccines.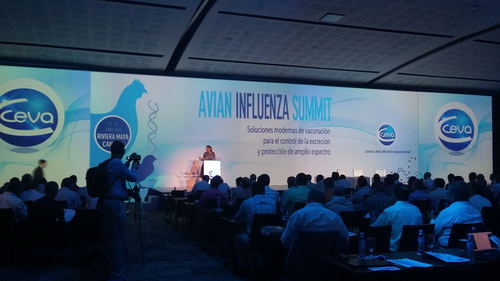 Since then Ceva has been working with Governments and private partners to support them in their fight against this growing infectious disease. The development of a new rHVT AI H7 vaccine, developed in co-operation with the Mexican authorities is the latest evidence of this commitment.
Commenting at the summit, Ceva's Latin American Zone Director, Jean-Charles Tissot said: "We are delighted to return to Mexico, after the success of our previous AI summit held in Los Cabos in 2014. The participation of so many top scientists and producers at this event shows the seriousness of the threat posed by Avian Influenza to both Latin America and the rest of the world."
(1) Avian Flu: A Growing Challenge, supplement of WATT Poultry USA, published by WATT Global Media, Rockford, IL USA and Ceva Santé Animale S.A. France. Copyright© 2015.