Ross Poultry Breeders Celebrates 45 Years as Ross Distributor in South Africa
SOUTH AFRICA - Ross Poultry Breeders, part of the Astral Group, is celebrating a landmark anniversary of 45 years as a Ross® distributor in South Africa.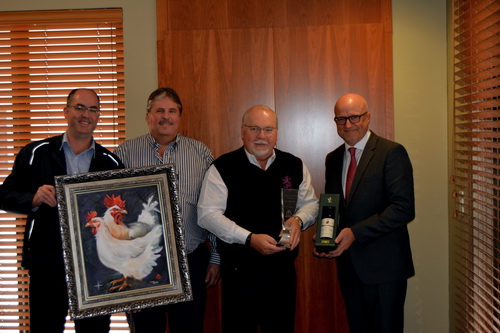 Astral recently hosted a group of Aviagen® executives for a meeting at its headquarters in Pretoria to recognize Ross Poultry Breeders significant contribution to the success of the Ross brand in Republic of South Africa. Aviagen CEO Jan Henriksen presented Astral CEO Chris Schutte with a painting of the Ross breeder pair.
"It is a real honour for Aviagen to have worked with the Astral Group for the past 45 years and have this opportunity to show our appreciation for their loyalty to the Ross brand," said Henriksen. "Ross Poultry Breeders has demonstrated its commitment to implementing Aviagen core values such as service, health and product quality and has taken Ross in South Africa from strength to strength."
Robert Roszkopf, senior operations manager Aviagen South Africa, added, "Aviagen South Africa is proud to supply Astral and we look forward to working with the team to continually promote and develop the Ross 308 in the market."
Gary Arnold, Astral's director of business development, commented, "It means a great deal to us that Ross Poultry Breeders is the Ross distributor in South Africa and Astral, as Ross Poultry Breeders customer, the leading Ross parent stock producer in the country. The Ross brand has served us and our customers well for 45 years and we will do everything in our power to ensure its growth and success for the next 45 years."
Astral was also awarded a prize for the best large stand at the AVI Africa 2016 trade show, which was held at Emperors Palace, Gauteng, between 21-23 June. The stand had a special celebratory theme, show-casing the 45- and the 60-year birthdays and promoting Ross as the Number 1 breed in South Africa.