Zoetis and British Poultry Council Launch 2016 Trainee Award
UK - This year is the 10th anniversary of the Poultry Trainee Award sponsored by Zoetis and the British Poultry Council (BPC) — an award that has helped winners to further their careers with training activities in this country and abroad.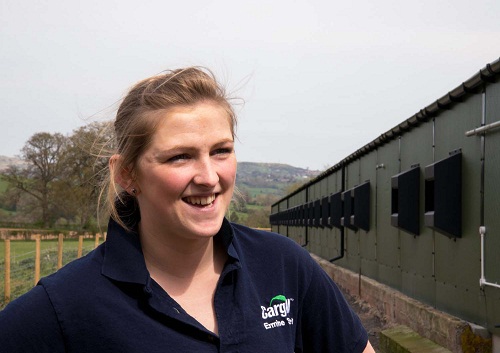 Annabelle Heath, winner of the 2015 award
Entries are now invited for the 2016 award which provides the winner with a £2000 training grant from Zoetis, a £500 cash prize from the magazine Poultry World and commemorative plaque, with all finalists attending the BPC annual awards ceremony at the House of Commons followed by an award dinner on Tuesday December 6.
"I'm really happy to be running the award for the 10th year and proud to be supporting the future of the industry," said James Porritt, Poultry Manager of Zoetis in the UK and Ireland. "I will yet again be excited to see the high calibre of applications that the award attracts."
The Zoetis – BPC Trainee Award provides the opportunity for winners to use the training grant in a variety of ways to further their careers.
Many choose to fund further education and this is the option for last year's winner Annabelle Heath who works for Cargill Meats in Herefordshire. She has applied to study for an HNC in poultry production at Scotland's Rural College, a two-year course delivered through distance learning modules.
By contrast, the 2014 winner Sam Jones, who is now responsible for Aviagen Turkeys grandparent farms in Cheshire, chose a specialist workshop on winter ventilation of poultry houses run by the University of Georgia in the USA. However, this was postponed due to the US avian influenza outbreak and instead he participated in the university's spring course as a remote learner through its website as well as completing other courses in fork-lift operation, poultry welfare and management.
The judging panel, which includes James Porritt, Poultry Manager of Zoetis in the UK and Ireland, Richard Griffiths, Policy Director of the British Poultry Council, and Jake Davies, Editor of Poultry World, will interview the finalists on November 3 and then the winner will be announced at the awards ceremony.
Entry forms can be obtained from BHR Communications (e-mail [email protected] or phone 01508 536041) or apply online at www.bhrcommunications.co.uk/pages/Zoetisform.html
Closing date for entries is September 23.