IMCaM Procedure for Egg Production Guarantees Exact Dry Matter Contents
GERMANY - Pelletising, combustion or other uses of residues produced by laying hens: achieving the correct dry matter content (DM contents) in manure drying pays off.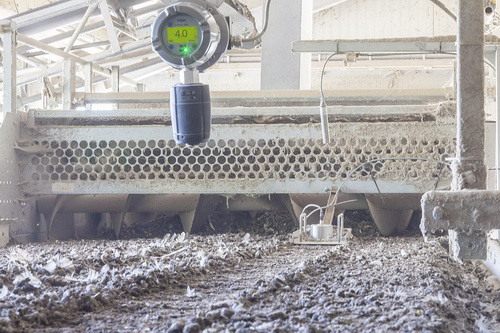 On the occasion of EuroTier 2016, Big Dutchman introduces the innovative IMCaM procedure for multi-level Big Dutchman belt dryers. The system is the first that guarantees achieving exactly the desired DM content. Another advantage: The procedure, which additionally saves energy, moves the drying process nearly entirely out of the house and thus verifiably reduces ammonia emissions. This has a positive influence on the house climate and thus on the birds' well-being.
The system is based on the newest sensor technology. Around the belt dryer as well as in the barn and outside of it, sensors automatically measure the ammonia content, air temperature and humidity as well as the DM content of the manure after it has been transported out of the house. The gathered values are continuously analysed and used to calibrate the belt dryer. Depending on the available data, the system is charged with poultry manure step-by-step or continuously. The final result is a residue that has exactly the desired DM content.