New Lasalocid MRLs Relieve Export Restrictions for Broilers
GLOBAL - Broiler producers who want more diversity in their anticoccidial-rotation plan can now consider the ionophore lasalocid without worrying about it putting a damper on exports.
This says Jon Schaeffer, DVM, director of poultry veterinary services, Zoetis, in Poultry Health Today.
After reviewing data demonstrating the compound is rapidly depleted from tissues, Japan and the EU recently raised the maximum residue limits (MRL) permitted for lasalocid (Table 1).[1],[2],[3] "This should relieve any concerns related to MRLs that US broiler producers have about exporting to these regions he says.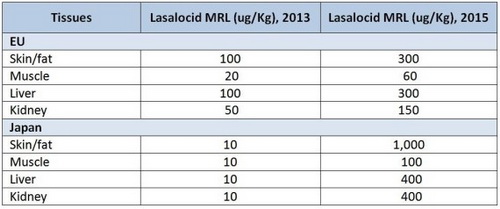 Table 1. Lasalocid maximum residue limits (ug/Kg) in the EU and Japan
Lasalocid is marketed as Avatec® (lasalocid). In the US, it has a zero-day withdrawal time and can been fed all the way to processing, the veterinarian explains.
The former MRLs for lasalocid in Japan existed because the product's previous sponsors had not filed an application there to establish an MRL. Japan, therefore, defaulted to the lowest level possible — 10 ug/Kg — which made it virtually impossible for poultry producers using lasalocid to export their meat to that country, Schaeffer says.
The changes in MRLs for lasalocid should be welcome news for broiler producers looking to add another field-proven anticoccidial to their rotation program, he says.
Lasalocid is a divalent ionophore with a unique molecular structure, Schaeffer explains. It therefore can be used to break up resistance associated with the continuous use of monovalent ionophores such as monensin, narasin and salinomycin.
[1] The Japanese Food Chemical Research Foundation. Table of MRLs for Agricultural Chemicals. Available at: http://www.m5.ws001.squarestart.ne.jp/foundation/agrdtl.php?a_inq=78500. May 5, 2016.
[2] Data on file, 1511R-60-11-325, Zoetis Inc.
[3] Data on file, RB012-09LAxxxx, Zoetis Inc.