PickPuck Promotes Layers' Natural Pecking and Scratching Behaviour
GERMANY - The poultry industry in Germany will soon phase out debeaking for laying hens.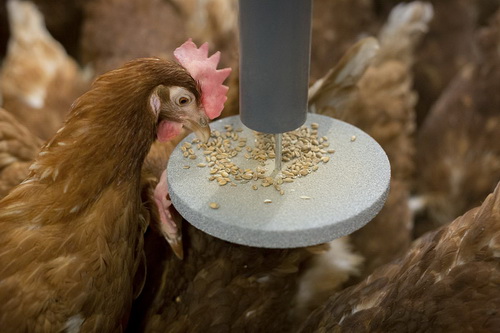 With regard to this decision, Big Dutchman presents a new product for natural and humane wearing of the beak at EuroTier 2016: The poultry equipment supplier from Vechta has developed a coated pendulum that can be used in free-range and barn egg production. This pendulum promotes the birds' natural pecking and scratching behaviour in the litter area. In addition to gently wearing down the beak, using the PickPuck regularly also shortens the claws and provides a diversion.
The pendulum is attached to a small hopper and swings a fingers' breadth above the house floor. As soon as a hen pecks on the pendulum, feed (e.g. wheat) drops into the litter. The birds search for the grains and thus continue to move the pendulum. Their interest in the pendulum and searching in the litter also reduce the risk of feather pecking and cannibalism.