CME: Broiler Production Up 2% During March
US - The total US meat supply situation for the first quarter of the year is close to being finalized, all that is needed are imports and exports during March, reports Steiner Consulting Group, DLR Division, Inc.
USDA-National Agricultural Statistics Service (NASS) reported March poultry production Wednesday. Young chicken (broilers) production for the month was up 2 per cent from a year earlier, in line with expectations. Birds processed during March was up 1 per cent from a year earlier. The average weight of birds at time of processing was heavier by only a fraction of a percent. For the first quarter of 2017, broiler production came in at a 2 per cent increase. This increase was consistent with hatchery output in late 2016 and the first month of this year. Total poultry production, on a ready-to-cook basis was also up 2 per cent for the quarter, compared to the same quarter in 2016.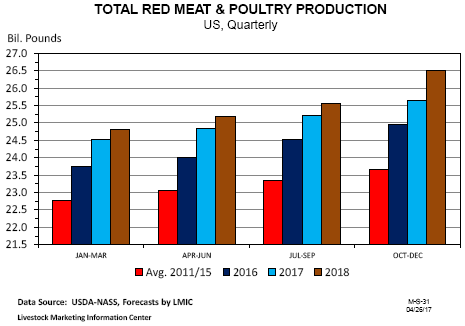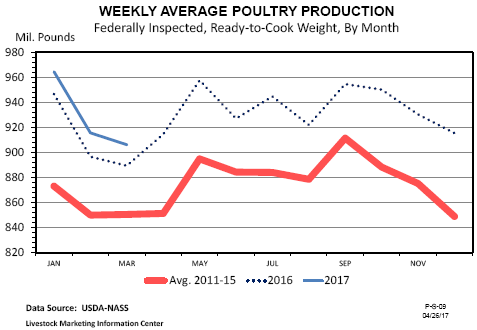 Turkey is the other major component of poultry production, and March turkey output was up 5 per cent from the prior March. Slaughter accounted for 3 per cent of the 5 per cent increase in production and average bird weights at time of processing were 1 per cent heavier than a year ago. For the entire quarter, turkey production was up 4 per cent from a year ago.
Turkey production in March was a little more than expected, reflecting limited mortality between the hatchery and final processing. Frozen turkey inventories at the end of March, data that was released last Monday by USDA-NASS in the Cold Storage report, was about 40 million pounds higher than expected and the March turkey production helps to explain the trend in cold storage holdings. Mild winter weather in primary turkey production regions probably was a factor affecting mortality.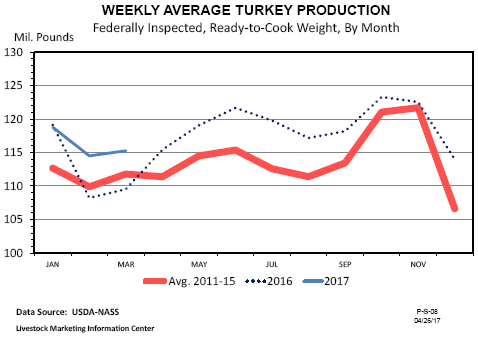 US total red meat and poultry production during the last quarter of 2016 was up 886 million pounds (3.7 per cent) compared to a year earlier. Total red meat and poultry output during the first quarter of 2017 was 24.5 billion pounds (carcass weight), up 775 million pounds (3.3 per cent) from the same quarter in 2016. The Livestock Marketing Information Center (LMIC) is currently projecting spring quarter 2017 total red meat and poultry production to be up over 800 million pounds from last year's.