Cobb Champion Award for Senpilic in Turkey
Outstanding hatchability has won Senpiliç in Turkey one of the Cobb Champion Awards. They were introduced last year to recognize annual world-class performance at breeder, broiler and hatchery levels in Europe, the Middle East and Africa (EMEA).
The award was presented during the VIV Turkey event at Istanbul, Turkey, where Senpiliç's contracted breeder farm Insa Tarim was congratulated on achieving 88.27 percent cumulative hatchability at 60 weeks – the second highest figure in the entire EMEA region.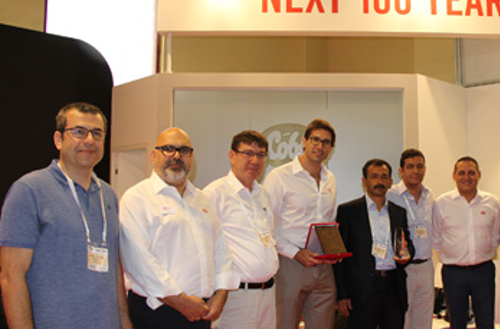 From left:
Şenpiliç quality assurance manager Savaş Ceylanlı, Cobb Turkey country manager Erol Çan, Şenpiliç assistant general manager Mehmet İyneci, Cobb Turkey technical manager Mert Yalçınalp, Insa Tarım owner İsmail Hakkı Çağrıl, Şenpiliç breeder manager Ergün Dinçel, Cobb Europe sales and technical director Töre Mercan.
Assistant general manager of Senpiliç Mehmet Lyneci, said: "We have had a very strong relationship with Cobb Turkey from the start of their new hatchery in Turkey. We both supported each other and we see Cobb as a very strong business partner. We hope we shall continue to gain awards as our business grows and the family relationship with Cobb develops in the coming years."
During the event the Cobb team met customers, not only from Turkey but the Middle East and other parts of the world, including potential business partners and prominent companies within the poultry sector.
Cobb-Vantress, Inc. makes quality protein accessible, healthy and affordable worldwide. Our research and technology innovates the global poultry industry. With headquarters in Siloam Springs, Arkansas, we are the world's oldest pedigree broiler breeder. We distribute poultry to more than 120 countries.
Find more at cobb-vantress.com