Aviagen Anadolu welcomes new Ross 140 and 400 club members and holds first awards ceremony in Sapanca
Aviagen® Anadolu has announced its 2017 Ross® 400 and 140 Club winners, who will be awarded in separate ceremonies throughout the country. Aviagen established Ross 400 and 140 Clubs to recognize customers who have realized exceptional results with Ross 308 breeder and broiler flocks.
The first winners representing Aviagen customers Asofis, Beypiliç and Şenpiliç were honored at a ceremony and dinner on Aug. 15 at NG Hotel in Sapanca. Sapanca is a town and district in the Sakarya Province of Turkey's Marmara region near Lake Sapanca. At the dinner, Aviagen Anadolu congratulated the winners and presented them with certificates, plaques and commemorative gifts.
Members exhibit high standards in caring for flocks
Bringing out the very best in a flock requires hard work, dedication and attention to detail, not only from flock managers, but from those who work with the birds at all production stages.
In order to earn entry into the Ross 400 Club, customers must achieve a European Performance Efficiency Factor (EPEF) score of 400. Other benchmarks considered are body weight and Feed Conversion Ratio (FCR), a measure of efficiency in converting feed to live body weight. All 140 Club members must attain a breeder performance of greater than 140 chicks per hen housed to 60 weeks.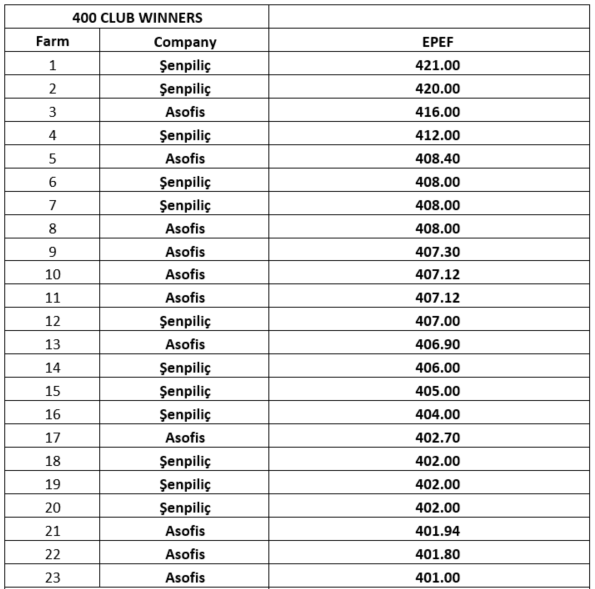 Performance on an upward trend
The Ross 400 and 140 Clubs were formed to stimulate performance improvements at the farm level, motivate poultry producers and encourage an exchange of knowledge and best practices at all levels.
Since they were initiated by Aviagen Anadolu just last year, the Ross Clubs have already seen an upswing in performance scores. The number of chicks per hen has increased by two chicks and the EPEF by five points compared with last year's results.
Africa Fernández, Aviagen Anadolu senior technical operations manager, commented, "We congratulate this year's Ross Club winners and applaud their impressive accomplishments. The performance this year has been remarkable thanks to the effort and expertise of poultry managers and overall improvements in biosecurity, which enable the full genetic progress of Ross broiler breeding stock to be realized."
Attendees commented that they appreciate the recognition of their efforts, and the awards "encourage friendly competition, which helps improve performance."
About Aviagen
Since 1923, Aviagen® has established itself as the world's leading poultry breeding company, developing pedigree lines for the production of commercial broiler chickens under the Arbor Acres®, Indian River®, and Ross® brand names. The Rowan Range® and Specialty Males® are specialty breeding stock from Aviagen that offer greater flexibility for customers to meet specific or niche market requirements. The company is based in Huntsville, Alabama, USA with a number of wholly-owned operations across the United Kingdom, Europe, Turkey, Latin America, India, Australia, New Zealand, and the U.S., and joint ventures in Asia. Aviagen employs more than 3,900 people and has a distribution network serving customers in more than 100 countries.
For further information, please visit www.aviagen.com.