PF Kekava joins Ross 400 Club
Latvia's only integrated company reaches excellent results.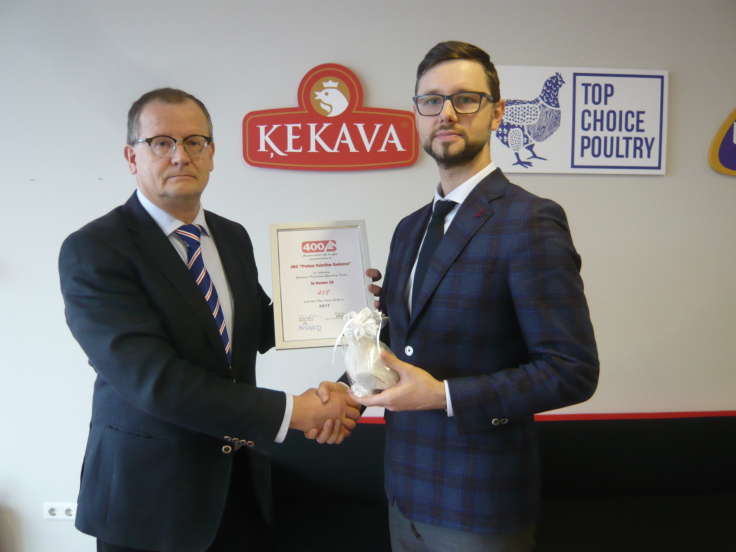 PF Kekava, Latvia, a leading poultry company in the Baltic States, is the latest member to join the prestigious Aviagen® Kft Ross® 400 Club.
The company has a successful track record of achieving results that entitle it to 400 Club membership. After excellent results in 2016, this year PF Kekava attained eligible European Production Efficiency Factor (EPEF) results of between 401 and 418 in six of its flocks.
An awards ceremony to recognize this exceptional achievement was held in Kekava recently.
Hannu Tiuttu, Aviagen SweChick technical and sales manager, said, "I would like to congratulate PF Kekava on the outstanding results obtained with its Ross flocks. PF Kekava staff is committed to thorough management so we can be sure that good results will also be recorded in future. Excellent performance is crucial for us and our customers and it is a real honor for us to work with such a dedicated and accomplished company as Kekava."
PF Kekava's member of the board responsible for the poultry business, Saulius Petkevičius, commented, "Our broiler results have been to such a high standard that we exceeded the entry requirements of the Ross 400 club. Our company has a great team that cares about the birds and follows the Scandinavian rules in management. To succeed in the market, following best practices is imperative, and that is why we have developed our antibiotic-free production."
About Aviagen
Since 1923, Aviagen® has established itself as the world's leading poultry breeding company, developing pedigree lines for the production of commercial broiler chickens under the Arbor Acres®, Indian River®, and Ross® brand names. The Rowan Range® and Specialty Males® are specialty breeding stock from Aviagen that offer greater flexibility for customers to meet specific or niche market requirements. The company is based in Huntsville, Alabama, USA with a number of wholly-owned operations across the United Kingdom, Europe, Turkey, Latin America, India, Australia, New Zealand, and the U.S., and joint ventures in Asia. Aviagen employs more than 3,900 people and has a distribution network serving customers in more than 100 countries.
For further information, please visit www.aviagen.com.