Friesen Hatcheries, first hatchery to adopt single stage incubation in Belize
Wedged between Mexico and Guatemala, one finds the tiny and eclectic country of Belize. Since the 18th century this Caribbean gem has been the home of several colonies of Mennonites. Because of their strong entrepreneurial position, they are commonly regarded as the economic motor of Belize.
Without having exact numbers, one can easily say that almost all chicken products in Belize are in their hands.
Friesen Hatcheries and Quality Poultry Products, a chicken processing business, coordinate in delivery of chicks to growers, while the chicken plant collects the broilers six weeks later and distributes frozen chicken all over the country.
In Spanish Lookout, a modern settlement in the Cayo District, we find Edward Dueck, general manager of Friesen Hatcheries:
"Our company, Friesen Hatcheries has been producing layer and breeder flocks in Belize since 1966. We have our own parent breeder broilers and brown layers. Our hatching eggs' genetics come from internationally recognised companies in the USA such as Hubbard, Arbor Acres, Cobb and NOVOGEN."
For its hatchery upgrade Friesen chose state of the art Petersime Single Stage BioStreamer HD setters and hatchers equipped with Operational Excellence Technology™. Besides the innovative technology, Petersime's commitment to fast and high-quality customer service is what convinced Mr. Dueck to partner with Petersime: "It was a large factor in our decision to know how other customers received technical support'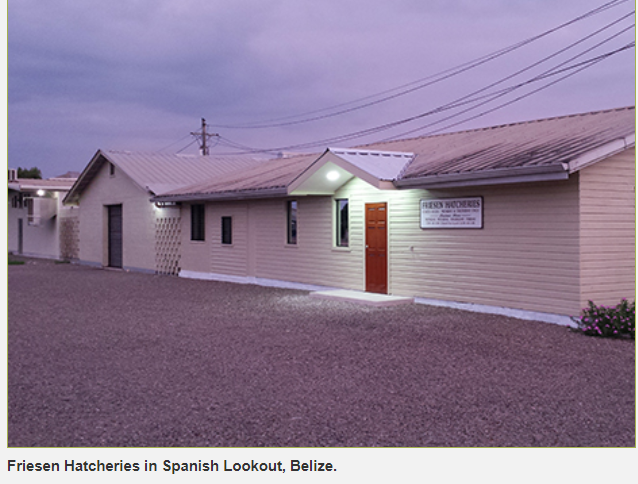 The project also includes Embryo-Response IncubationTM Technology, OvoScan™. This system adjusts the temperature of the embryo environment by controlling the egg shell temperature. The OvoScan™ feature minimises embryonic mortality and optimises hatchability. Top quality day-old chicks also guarantee significant improvements in post-hatch performance (liveability, growth and Feed Conversion Ratio).
The hatchery will be equipped with Petersime's advanced hatchery information system Eagle Eye to monitor, control, analyse and report on every level of hatchery operations for each hatch cycle.
Friesen is the first hatchery in Belize to adopt single-stage incubation technologies.
"We have been listening to other hatchery managers / friends concerning the way forward in the future and the demands in genetic changes. Since we needed to increase capacity we researched our preferred options in new equipment and decided to go to single stage." Says Mr. Dueck. "It is always a challenge to make changes and also to make a transition from type of product to another. But our experience with the transition has been surprisingly smooth and exciting."