Petersime launches automation solutions for single-stage hatcheries
More and more hatcheries have invested in single-stage incubation and see their business growing significantly. Because of the higher production of chicks every day, it is crucial to strive for improvement in terms of speed, consistency and cost reduction. As adding personnel would have an enormous impact on the labour costs, we're convinced that automation is the way to go.
Petersime helps facing these challenges by offering a range of standard automation solutions to increase the efficiency of essential processes in hatcheries. With professional assistance, our experts can help find out which automation solution will deliver the most added value to our customer's hatchery.
Automatic Candling and Transfer Machine
This compact candling machine picks out non-viable eggs and transfers fertile eggs carefully to the hatching basket. This minimises the amount of breakage and hairline cracks and reduces the risk of contamination. Moreover, it registers all data so our customers can both provide feedback about the flock to the breeder farm and better manage your egg supply because the estimation of the number of chicks hatching will be more precise. This way, they'll be able to guarantee security of supply to their customers.
Washing Machine
When striving for uncompromised bio-security, this automated washing machine is very useful. Next to an increased hygiene in the hatchery because of the qualitative cleaning of setter trays, hatcher baskets and chick boxes, it also works faster with less people involved.
Sexing and Vaccination Line
For an optimal workflow, it's important to be able to process more chicks with less effort on a minimum amount of space. This space saving line provides a comfortable working position for the hatchery employees and guarantees a higher speed of operation.
Chick Counter
With manual counting, great accuracy on a high speed is hard to realise. This machine eliminates errors of hatchery employees and operates faster which results in healthier chicks because they have to spend less time in the take-off room.
The benefits of Petersime automation are plenty
Next to an optimised value chain, Petersime automation provides plenty of benefits going from a minimal operational cost to an excellent bio-security. The equipment is robust and easy to maintain. Moreover, we ensure maximum business continuity of the operations of our customers by being a reliable support partner for their hatching business. Petersime can design, deliver and install complete hatcheries, which means customers only need one partner for their complete business lifecycle. As a result, their organisation will grow gradually, maximising their profit for life.
Petersime Automatic Candling and Transfer Machine Petersime Washing Machine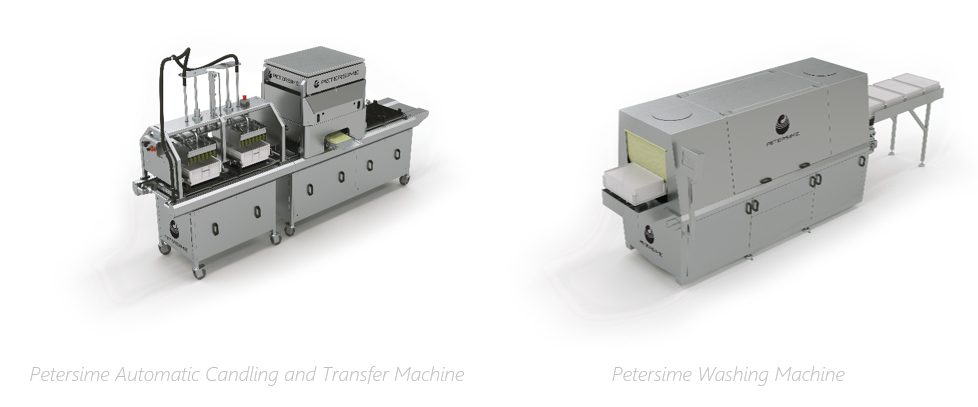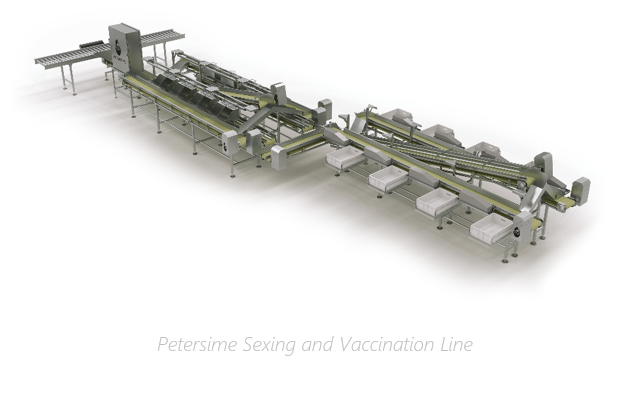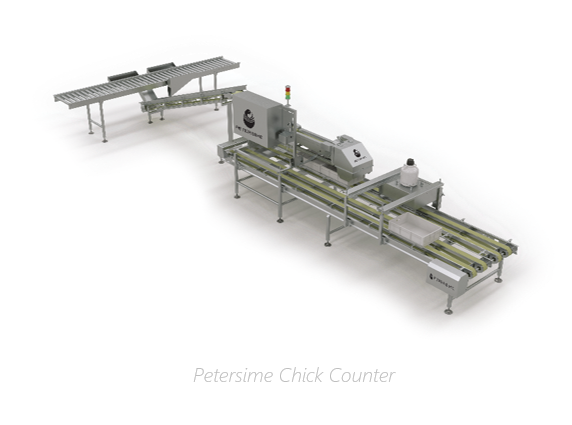 About Petersime
Petersime provides world leading incubator and hatchery equipment aligned with the expertise and support to maximise return on investment. Headquartered in Belgium with offices in Brazil, China, Russia, Malaysia and India and a worldwide sales network, Petersime commits to a dedicated customer service.