Aviagen Gold Coast customer conference well received and attended
Aviagen ANZ held a comprehensive one and a half day conference to address both new developments and the leading flock management practices to a large group of managers from poultry companies across Australia, New Zealand and the Pacific.
The event was held in March on the Gold Coast and was hosted by the ANZ team and well supported by a number of specialists from Aviagen Asia.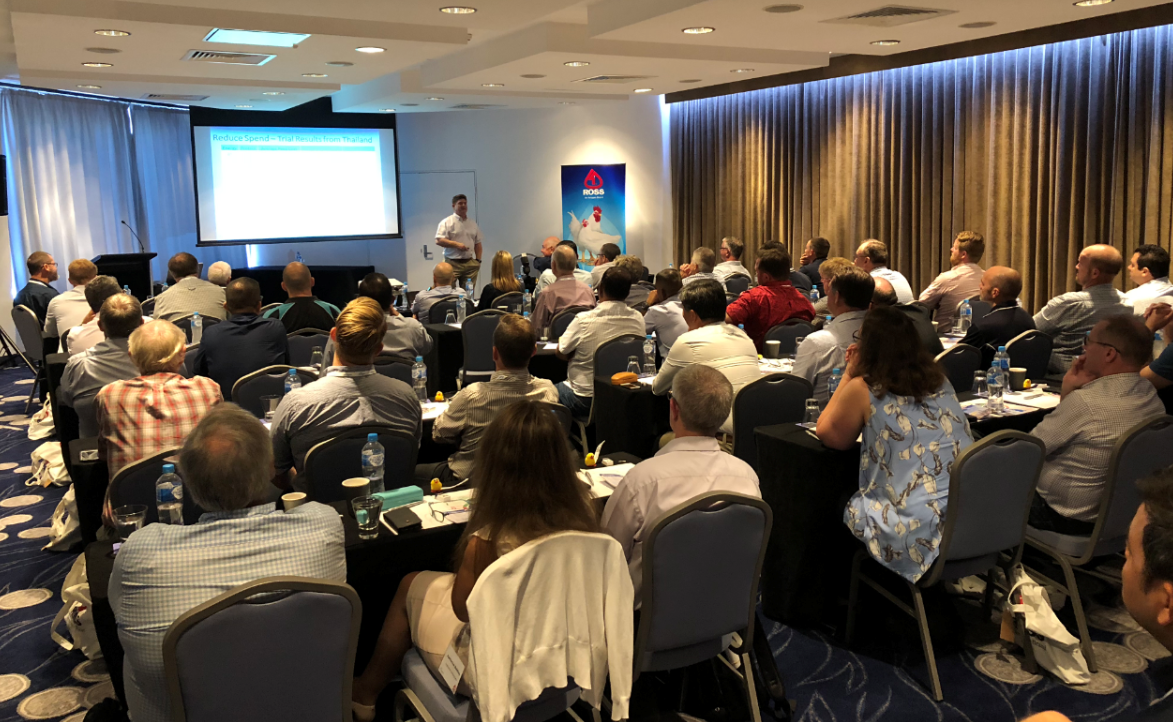 Attendees were warmly welcomed by Michael Leahy, managing director of Aviagen ANZ, who invited them to take the opportunity to enjoy the venue while interacting and catching up with their fellow "chicken people." He encouraged them to ask a lot of questions from the speakers of the day to ensure they left feeling like they had taken something of value that they could implement back into their own operations.
The seminar commenced with an Aviagen business review from Michael and was then addressed by Dominic Elfick, international product manager, who provided benchmark performance statistics for the region compared to global performance figures. He also made an impact with the audience with an excellent presentation on the financial impact on decision making.
The afternoon session divided the attendees into two separate rooms for either a breeder or and broiler seminar. In the breeder seminar, key topics included female management from 15 weeks to the point of lay, breeder nutrition, male management and caring for hatching eggs. In the broiler session, the agenda included presentations on the impact of brooding, the growing phase, gut health and how to achieve the genetic potential through feeding and nutrition.
At the start of the second day, Bernard Green, ventilation technical service manager, Aviagen Asia, explained the merits of good ventilation and the different processes required for effective summer and winter ventilation. Tim Ryan, veterinarian, Aviagen ANZ, then discussed the important subject of minimising antibiotic use in poultry production. He was followed by Wayne Miller, operations manager, Aviagen Australia, who discussed delivery and supply to complete the conference's formal agenda.
The conference was well received by those attending with Alan Parnham, farming director, Ingham's Group Ltd stating, "The Aviagen seminar was a great reminder of the importance of the basics of poultry production, but also a fantastic opportunity to communicate, be informed and learn from a range of experts in their fields."
Michael Leahy added his comments, "This is the most well received conference that I have witnessed as either an Aviagen customer or employee. This is probably a function of the quality of the presentations and the skill with which the message was delivered and the fact that it has been awhile since Aviagen hosted such an event. We will be looking to do this more frequently."
Immediately after the conference, the Aviagen teams of technical service managers and specialists in veterinary, nutrition, hatchery and ventilation visited with customers in Queensland, Victoria and New Zealand on farms and in hatcheries, and held seminars for their internal personnel and for the growers.
"It is important that we get out into the field and see our customers at all levels and the birds at all generations to pass on the latest information, address any questions or concerns they may have and let them know that we are here to support them when they need us." commented Debbie Fisher, technical service manager, ANZ.
About Aviagen
Aviagen® is a global poultry breeding company that develops pedigree lines for the production of commercial broiler chickens under the Arbor Acres®, Indian River®, and Ross® brand names. The Rowan Range® and Specialty Males® are specialty breeding stock from Aviagen that offer greater flexibility for customers to meet specific or niche market requirements. The company is based in Huntsville, Alabama, USA with a number of wholly-owned operations across the United Kingdom, Europe, Turkey, Latin America, India, Australia, New Zealand, and the U.S., and joint ventures in Asia. Aviagen employs more than 3,900 people and has a distribution network serving customers in more than 100 countries.
For further information, please visit www.aviagen.com.