Petersime marks a milestone: 10.000th OvoScan™ technology project
Petersime's OvoScan™ technology hits its 10,000th sale this year. This means that over 30,000 OvoScan™ sensors are currently measuring the eggshell temperature of incubated eggs in BioStreamer™ setters all over the world.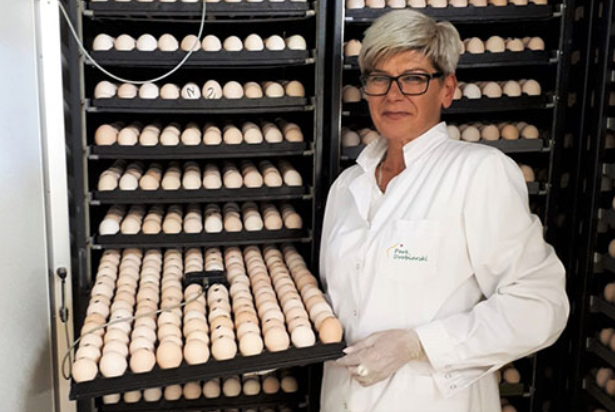 Barbara Leżanka from Park Drobiarski holding one of the egg trays with the OvoScan™ device
As part of Petersime's Embryo-Response Incubation™ technologies, the OvoScan™ system adjusts the temperature of the embryo's environment in the setter by controlling the eggshell temperature. In fact, it mimics the attentiveness and real-time temperature control of the parent bird.
So, why is the system so popular? We asked Mr Arkadiusz Rydellek, CEO of Park Drobiarski, a top producer of broiler chicks on the Polish market.
"Temperature is one of the most important elements influencing the chick quality, that's why we decided to equip all our setters with OvoScan™ sensors", he starts off. "Using OvoScan™ made it significantly easier to manage the hatchery because we no longer have to use various temperature programmes for different flock ages."
Besides, the OvoScan™ has a positive impact on the In-Ovo vaccination in their hatchery. "The effectiveness of In-Ovo vaccination depends on the right development time of the embryo, and OvoScan™ helps achieving this.", explains Mr Rydellek.
And there's more. Mr Rydellek sees a significant improvement on the quality of the chicks as well. He continues: "An optimal temperature in the setter influences the hatchability, making the hatch window shorter, and thus improving the chick quality. The chicks are clearly more uniform, and they hatch in an optimal time span of 24 hours before the take-off from the hatcher. This influences their health and allows us to get better results on the farms and decrease the mortality of the chicks in the first week of their life."
Next to the positive feedback we receive from our customers here at Petersime, this milestone confirms that using nature as a reference for product development is the right approach and meets the requirements of the customers we serve. On to the next 10.000!