There is a false economy of turkey 'crowns', says KellyBronze
UK - 24 October 2018: The premium prices for turkey breasts or 'crowns' at Christmas means that consumers are effectively paying for the whole bird when buying a crown, according to Paul Kelly, managing director of Kelly Turkeys
Major retailers sell only 30 percent of whole birds and the remaining 70 percent are predominantly crowns, he said, contrasting with their own KellyBronze farmgate sales at Danbury, Essex, where 72 percent of sales are whole birds, 14 percent crowns and 14 percent breast joints.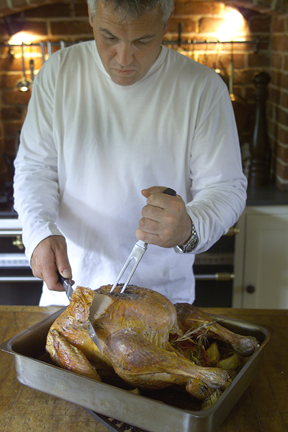 "This is a staggering difference," he said. "Given that consumers are paying for the whole bird when buying the crown, they may as well have it. Educating customers to this fact, as well as giving great left-over recipe ideas, will hopefully reverse the trend."
In his annual autumn newsletter to the butchery and retail trade Mr Kelly states: "The whole bird is far better value and leaves no waste. It's a win for everybody and right now it is the perfect time to raise the subject with the press, the headline being 'If you pay for the crown, the legs come free!' "
He points to the impact of rising costs on Christmas turkey production, with the wheat and soya market, minimum wage increases and the price of cardboard all weighing heavily.
"I am very nervous about the future costs of feed," he added. "Climate continues to play such a huge part in determining crop yields and freak weather patterns could easily devastate the world food supply."
KellyBronze prices are increased by 5.4 percent this year - exactly in line with higher production costs.
As reported by KellyBronze Turkeys