50,000 chickens killed in poultry farm fire overnight
NEW ZEALAND - Fifty thousand chickens were killed in a huge fire in west Auckland early in the morning of 27 December 2018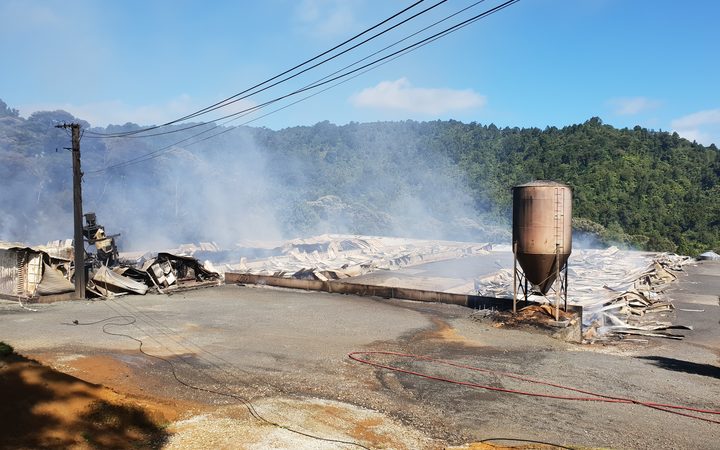 50,000 chickens died in the fire. Photo: RNZ / Matthew Theunissen
The blaze completely destroyed three large barns at the Stoney Creek farm in Henderson
Firefighters were called to the scene about 1.30am and were still at the scene this afternoon to ensure the smouldering wreckage didn't cause nearby buildings or vegetation to catch fire.
The stench of burnt meat and plastic is almost overwhelming at the site, which is nestled in an idyllic, forested valley.
Fire Service Henderson senior station officer Jason Orchard said the three large, two-storey sheds were already engulfed in flames when fire crews arrived.
A fourth barn was also at risk of succumbing to the blaze, so firefighters put their energy into saving that and and into preventing it spreading to the nearby forest.
"You've got a well-established fire in an area like this where there's very limited water so it was very tough. But to manage to save the one building, at least there's one positive out of this," Mr Orchard said.
The Stoney Creek farm supplies Tegel with chickens.
A Tegel spokesperson said the chickens were barn raised.
Animal rights group SAFE wants an urgent review of animal housing in the wake of the fire.
Its head of campaigns, Marianne Macdonald, said she was appalled by the incident and called for an urgent review into farmed animal housing.
"The tragedy of these birds killed in a raging fire, clearly highlights the dangerous conditions that factory farmed animals are trapped in. With thousands of chickens in each shed, when there's a fire there's no way to rescue them," Ms Macdonald said.
"It's vital that factory farms such as these need effective early detection systems and sprinklers, as well as sufficient water supplies, not only for the animals' sake but to prevent harm to firefighters trying to save these animals"
Once the scene is completely settled, fire investigators will begin their work to establish what caused the blaze.
Firefighters were also kept busy at another incident in Whanganui overnight.
At 3am, a fire damaged a bakery on the corner of Fitzherbert Avenue and Carlton Avenue.
Fire and Emergency said the fire was being treated as suspicious.
No one was inside at the time.
An investigations is underway into the incident.
Shared with The Poultry Site with the permission of Radio New Zealand, click here for the original article