30 years of safe driving earns Cobb-Vantress driver top award
Kennard "Deano" Davis named Ryder's Driver of the Year
Long-haul Cobb-Vantress egg driver Kennard "Deano" Davis was recently named Ryder's Driver of the Year at a ceremony in Siloam Springs, Arkansas. One of Ryder's most prestigious recognition programs, the award honours drivers who demonstrate exemplary safety performance, customer service and citizenship throughout their careers. Davis will take his place in the Ryder Driver Hall of Fame alongside just 116 others honoured in the last 46 years.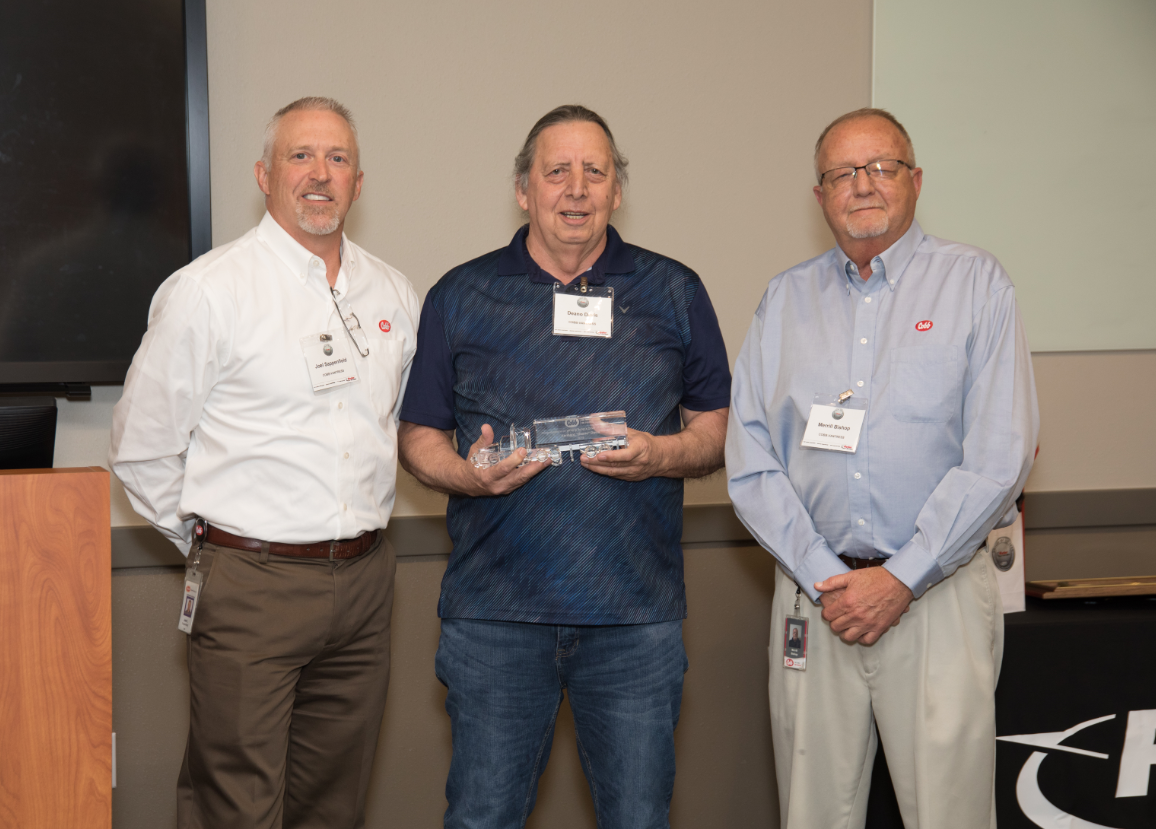 A Siloam Springs resident, Davis has worked for Cobb since 1990. After spending several months working in one of the company's hatcheries, he changed positions and became a long-haul driver transporting eggs. Twenty-nine years and 3,586,024 miles later, Davis has an impeccably safe driving record and is known to love the road and his work. His colleagues and supervisors alike say his passion for his work comes out of his impeccable attention to detail, whether that means making sure his equipment and load are safe or providing the highest level of customer service.
"Deano is a great example of the qualities we seek in a Cobb team member," said Joel Sappenfield, president of Cobb-Vantress. "He takes pride in his job, loves his family and is dedicated to his community."
Davis has a large family - including 21 grandchildren and four great-grandchildren. Several members of his immediate and extended family are also current or former Cobb team members, with more than 100 years at Cobb between them. Passionate about providing for his family and contributing to his community, Davis has taught Sunday school for more than 20 years and enjoys singing regularly at church.
At the March 27 ceremony at Cobb headquarters, Ryder senior leadership - including CEO Robert Sanchez and President John Gleason - congratulated Davis, presenting him with a cash prize, a framed award, and a specially designed ring and watch.
"Truck driving is at the very core of our DNA," Sanchez said. "Our founder, Jim Ryder, a driver himself, believed in doing an honest day's work, being the best you can be and always putting our customers first. Drivers like Deano are the reason Ryder has the same reputation today for safety and excellence that we've enjoyed for 85 years."
Ryder selected Davis from a pool of more than 150,000 drivers employed by their fleet management customers. Cobb employs 108 regional and long-distance drivers. Interested in a driving career at Cobb? Learn more here.