Canada to challenge food insecurity with national food policy
Minister of Agriculture and Agri-Food Marie-Claude Bibeau attended the second annual Food Security Symposium in Toronto to discuss Canada's commitment to challenging food insecurity.
On Friday 27 April Marie-Claude Bibeau, Minister of Agriculture and Agri-Food, joined leaders and stakeholders from across Canada's food system to highlight the Government's commitment to deliver on A Food Policy for Canada, the first-ever national food policy.

"A Food Policy for Canada is a good first start to support community food security initiatives and to begin to address some of our food system's most pressing issues, like the cost of food in Northern and Indigenous communities and inadequate access to school food programs. We're also very much looking forward to seeing further action to support the four million Canadians who can't afford to buy food for themselves and their families," commented Nick Saul, President and CEO of Community Food Centres Canada.

Minister Bibeau spoke in Toronto at the second annual Food Security Symposium: "Building Collaboration to Reduce Food Insecurity," a forum organised by the Maple Leaf Centre for Action on Food Security.
"A Food Policy for Canada is Canada's first-ever long-term vision for the future of food in this country. Canadians from coast to coast have helped us develop a path forward to address the challenges of our food system, while ensuring that Canada's agricultural sector continues to grow our economy. This investment will help make our vision a reality," said Marie-Claude Bibeau.

As announced in Budget 2019, the Government will invest $134.4 million in A Food Policy for Canada – a collaborative and coordinated approach to addressing food-related challenges and opportunities. The Government heard from more than 45,000 Canadians during its consultations on food policy.
Julie Dabrusin, member of parliament for Toronto-Danforth, added: "Throughout the community consultations I hosted here in Toronto for A Food Policy for Canada, I heard from many constituents who voiced their strong support for increasing access to healthy food for all Canadians, regardless of income. I am excited to see the many opportunities to improve our food system set to come with the new food policy."

"Food insecurity is a devastating social issue, affecting over four million Canadians. The Centre is actively working towards sustainable change through advocacy, funding and collaboration. The federal government's commendable progress on poverty reduction, combined with a national food policy for Canada, provide critical social policies to advance sustainable solutions," said Michael McCain, honourary chair, Maple Leaf Centre for Action on Food Security
"It was truly an honour to engage the Minister in such an important conversation today at the Food Security Symposium. I look forward to partnering with the Government on key elements of A Food Policy for Canada, and I encourage the Minister to continue to engage with expert stakeholders, who will provide consistent monitoring, well-researched advice, and support for implementation of the food policy," added Dr Evan Fraser, Director of the Arrell Food Institute at the University of Guelph.
The Budget 2019 report details the Food Policy for Canada, stating that all Canadians should have access to "safe, healthy, affordiable, culturally appropriate and locally produced food."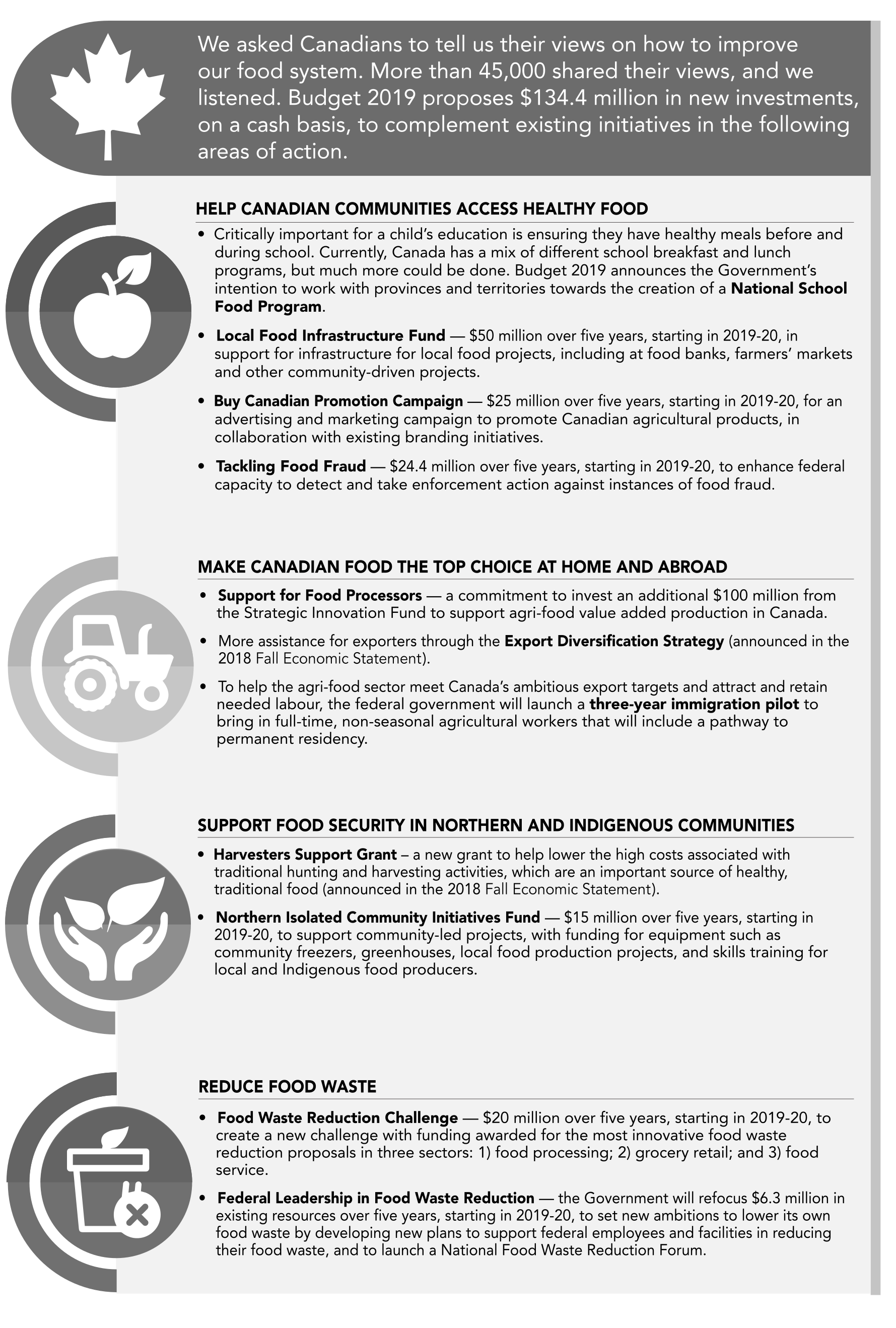 "As Canada's largest food rescue organisation, Second Harvest is excited by the federal government's commitment to reduce food loss and waste from across the supply chain. The investment in local communities to scale up their infrastructure in this area will ensure more Canadians can access the healthy food they need for success," said Lori Nikkel, CEO, Second Harvest.
"Food Secure Canada is eagerly anticipating an ambitious new food policy that reflects the concerns heard during the consultations. We need a new long-term vision for healthy and sustainable food in Canada, where no one is food insecure. This will require a new governance mechanism where civil society can bring its expertise to the table," added Diana Bronson, executive director, Food Secure Canada.
Quick Facts
A Food Policy for Canada will focus on four key action areas:
helping Canadian communities access healthy food;
making Canadian food the top choice at home and abroad;
supporting food security in Northern and Indigenous communities; and
reducing food waste.
Under these four action areas, proposed initiatives include working toward a national school nutrition program, a local food infrastructure fund, a buy Canadian promotional campaign, tackling food fraud, support for processors, a Northern isolated community initiatives fund, and a food waste reduction challenge.
The vision for the food policy is that all people in Canada are able to access a sufficient amount of safe, nutritious and culturally diverse food, through a sustainable and innovative food system that promotes and protects health, sustains our environment, and supports our economy.
A Food Policy for Canada initiatives are expected to be released in the next few months.