The show's on the road for Vencomatic UK
In the 5th of the UK-wide series, Vencomatic recently visited the Bentley Hotel, Lincoln with its 'Connect' roadshow.
The theme of the evening was 'Health Means Wealth', supporting the company's 'Poultry Welfare is our Passion' ethos. The audience heard short, informative talks from a range of industry speakers after an update on innovations from Vencomatic, Prinzen and Vencomatic Energy.
The first guest speaker to take the floor was Will Garton of Avivets, with a tour of avian gut health including the seed, feed, weed method; before Matthew Green from Wot-A-Pullet demonstrated how birds are reared for effective performance in multi-tier laying systems. Following a short comfort break where a finger buffet was served, Premier Nutrition's Ian Mackinson and Eloise Lawlor explained how to meet the challenges of feeding the modern layer, especially with the increasing desire for larger eggs. Jean-Paul Michalski of Noble Foods then updated the room on the industry's movements toward the 'cage free by 2025 commitment', and clarified the reasons for their decision to install Vencomatic's Unistart rearing and Veranda Aviary 2 laying systems at their Hilltop and Longbelt sites as their move to high-welfare barn production. Finally, Peter Cumbers of Joice and Hill entertained the audience with an account of how Hendrix Genetics use selective breeding to produce commercial birds with specific traits such as non-hooked beaks, calm and passive social behaviour, and consistent egg size.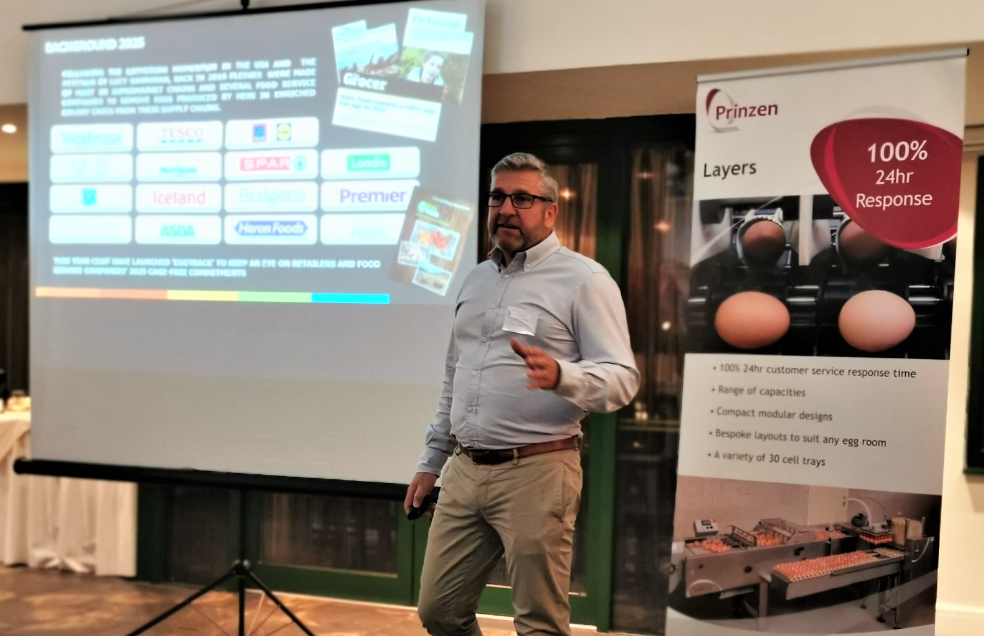 The evening followed an open farm day at a local free-range unit, where visitors were given the chance to see the Vencomatic Veranda Gallery double system, including the National Egg and Poultry Award winning Miteperch - which can eradicate red mite without the use of harmful chemicals.
Vencomatic UK's CEO, Mr Gordon Alexander was very positive about the roadshows, saying "these roadshow evenings have given us the opportunity to bring the various sectors of the industry together to address the issues we all face, and are proving very popular. We want to say a big thank you to our roadshow partners – we wouldn't be able to do this without them, and we're hoping to continue the concept going forwards."
The next stop on the Vencomatic Connect roadshow is the 10th of October, at the Angel Inn, Topcliffe, North Yorkshire YO7 3RW. This roadshow evening is timed to coincide with a local open day, showcasing Vencomatic's Bolegg Starter rearing system - the first in the UK - at Yorkshire Farmhouse Eggs, Westwick Hall Farm, Boroughbridge, YO51 9NH. The Bolegg Starter offers chicks the opportunity to develop 3D spatial awareness from day one, ensuring that pullets are well-versed in finding their way around a multi-tier laying house, and resulting in outstanding egg production from the start.
For more information or to book a place on the rearing open day or the evening roadshow, please email [email protected] or call 01845 521360