Daily US grain report: markets continue to get buffeted by bearish outside market forces
US grain futures prices were mixed but mostly firmer in overnight trading. Corn was up around 2 cents, soybeans up 1 to 2 cents and wheat steady to up 3 cents.
The grain market bulls late this week are trying to stabilise prices after the selling pressure seen in the wake of Monday's USDA report that was fully bearish for corn and wheat.
News Thursday that China plans to retaliate against the US for the new US trade tariffs, some of which go into effect on 1 September, are another negative element for the grain markets. China is demanding the US lift all of its trade tariffs on Chinese products. President Trump tweeted Wednesday evening that China's "humane" response to the Hong Kong protesters is tied to a trade deal being reached with the US These developments appear to have the US-China trade war taking another step back, regarding an agreement being reached anytime soon. Earlier this week the US pushed back the timeline on some new tariffs being imposed on China, which briefly assuaged the world marketplace.
The wobbly global stock market scene at present, and concerns regarding slowing world economic growth, are also underlying negatives for grain markets.
Grain traders will closely examine Thursday morning's weekly USDA export sales report. Demand for US grains has been tepid in recent months.
Traders are also scanning the weekly export sales data for any new purchases from China. However, with today's news coming from China, any solid purchases from that nation seem unlikely any time soon.
The US National Oilseed Processors Association (NOPA) crush numbers are set to be released later today. Traders expect to see July crush come in around 155.8 million bushels.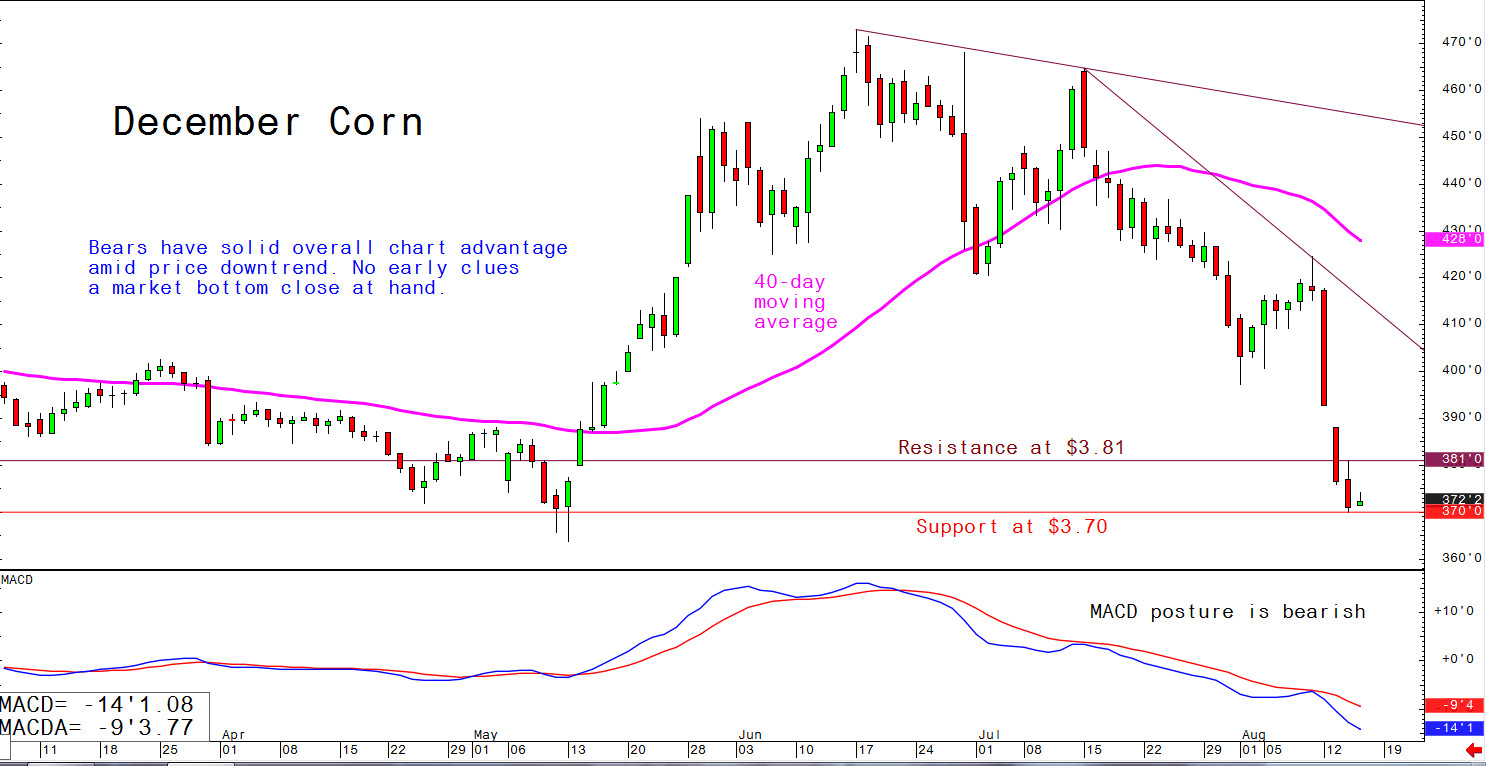 Corn Belt weather remains benign for the US corn and soybean crops, which is bearish for prices. Late this week sees temperatures rising a bit in the region, but with scattered rainfall. It's mid-August and the window is rapidly closing on any heat/dry stress developing for the soybean and corn crops. The next major weather threat would be an early frost in the Corn Belt that could reduce corn and soybean yields.