Hamlet Protein invests in renewable energy
In December 2019, the biggest heat pumping facility in Denmark opened at Hamlet Protein in Horsens.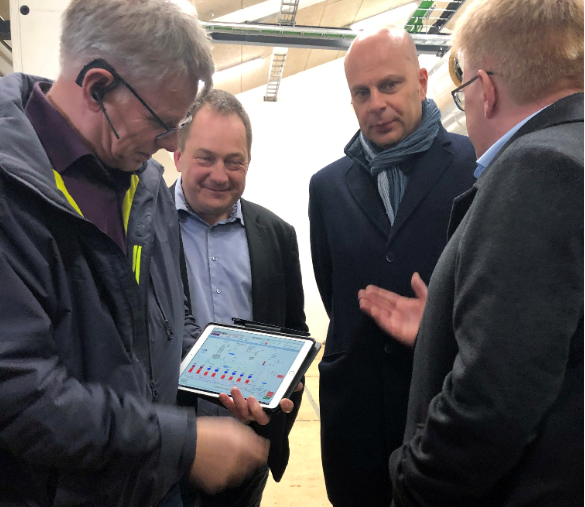 Waste heat from Hamlet's production facility is transferred into the heating of 3,300 local households. This unique public-private cooperation clearly confirms Hamlet's commitment to sustainable production processes, resulting into a direct gain for both climate and community.
Together with the District Heating Company in Horsens, Hamlet Protein worked for more than 2 years on a combined investment of 8 mill. Euros to realize this unique project. State of the art engineering technology was applied to optimize the reutilization of excess heat from Hamlet's production process.
Hamlet Protein is a global leader in the production of specialty feed ingredients for young animals, based on vegetable soya protein. The company has developed a patented process, which minimizes the anti-nutritional factors that impact the feed digestion in young animals. The bioprocessing of soya in itself results in a sustainable product and the current investment is taking Hamlet's commitment to sustainability one step further.
"We are continuously working to reduce our CO2 footprint as we constantly optimize our production efficiency and supply chain. This project that allows the heating 3,300 households directly reduces the need for biofuel or natural gas resulting in a more sustainable heating source," stated Stig Victor Petersen, Operations director at Hamlet Protein.
The new facility, located next to Hamlet's production facility, is approximately 600 square meters and was officially opened on December 18th, 2019. Staff of District Heating Company and Hamlet attended the festivities alongside representatives of the local community. The Mayor of Horsens, Peter Sørensen, did the ribbon cutting.
In the first year, the project expects to deliver 70.000 MWh and calculations show savings of 6.0 mio Euros in a socio-economic context over the next 20 years, and 13.2 mio. Euros savings for the District Heating Company in Horsens in the same period.
"This is a great accomplishment for all stakeholders that directly benefits the community of Horsens. I am very proud of the joint effort of local authorities to make this public-private cooperation a success." stated Hamlet Protein CEO Erik Visser. "This is a proud moment for us, and it further confirms that Hamlet's commitment to sustainable production is much more than a line in the annual report," concluded Visser.
Hamlet Protein produces soy-based protein ingredients for young piglet, poultry and cattle feed at two production plants in Denmark and the US. Hamlet Protein services customers around the world through a network of own sales offices and distributors. Find out more www.hamletprotein.com
Sponsored Article
---
Our Partners
---