Cobb debuts new management guide and supplements at IPPE 2020
Cobb-Vantress announced seven new or updated management guides and supplements at the International Production & Processing Expo this week in Atlanta.
The updates and new introductions help expand upon Cobb's commitment to providing customers with the latest recommendations based on breed performance, current scientific knowledge and practical field experience from around the world.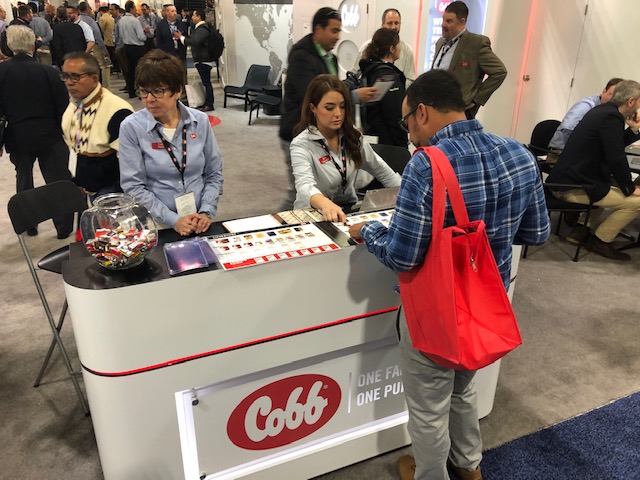 Included in the updated offerings are:
Vantage™ Male Supplement
Vaccination Management Guide
Cobb500™ Grandparent Male Management Supplement
Cobb700™ FF Breeder Supplement
Cobb700™ SF Breeder Supplement
Cobb700™ Broiler Performance and Nutrition Supplement
CobbMV™ Male Supplement
"Customers use Cobb's resources to help obtain the full genetic potential of our family of products," said Cody Polley, Director World Technical Support at Cobb. "We regularly review and update our resources to keep our customers up to date with the latest information available. We've even expanded our team to continue to develop this important content."
The most extensive work was done to the Vaccination Management Guide, which was outfitted with animal welfare tips and redesigned for ease of use in the field. Cobb tailored the guide to help field personnel with the proper use and administration of poultry vaccines. This resource offers standard operating procedures to improve the delivery and efficacy of vaccines from hatchery to farm, ultimately helping to optimize flock performance and immunity.
"Our vaccination guide includes detailed information on vaccine preparation, storage, and delivery of vaccines at multiple sites of inoculation and several ages," said Dr. Nicholas Anthony, technical content manager at Cobb. "We've also included animal welfare tips to provide our customers with methods and strategies to vaccinate flocks in a manner that promotes the best animal welfare outcomes."
Additionally, the team created a new resource: the Cobb500 Grandparent Male Management Supplement, which provides information Cobb customers may use for their Cobb500 Grandparent operations, including general management guidelines for rearing and production, promoting and sustaining fertility, and performing grading and selection.
All management guides and supplements are housed on Cobb's website and mobile application (Cobb Connection), and include recommendations for grandparent stock, parent stock and broilers. Additional guides cover hatchery, vaccination and processing procedures. Topic-driven white papers, technical articles and a full range of performance charts are also available.