EuroTier China 2020 exhibition kicks off this week
Exhibitors and visitors will be meeting both physically - at the fairground in Chengdu - and virtually on the online platform "EuroTier China LIVE"; German Pavilion organized by the German Ministry of Agriculture reflects Sino-German agricultural cooperation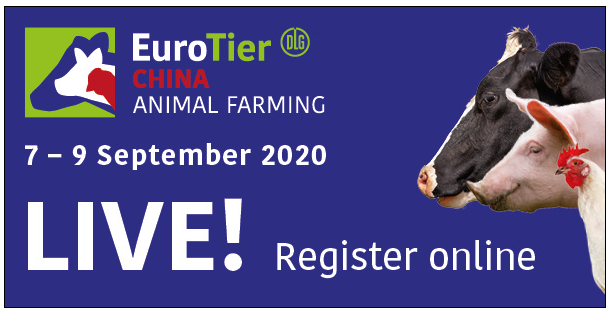 The organizers of EuroTier China 2020 are looking forward to welcoming exhibitors and attendees from 7 - 9 September for the second edition of the animal farming trade fair at the Chengdu New Century City Exhibition and Convention Center in Sichuan, China. This year, virtual attendance in real time is also offered to interested livestock professionals.
"We are extremely pleased that this second edition of EuroTier China goes ahead exactly as planned, which is precisely 12 months after the first edition of EuroTier China in Qingdao was successfully launched. Here we are in China one year later with an even wider exhibition programme that includes the new webinar series, which was held in the months leading up to the exhibition and consisted of online expert talks, covering all livestock topics, from pigs and poultry to dairy and aquaculture. This year, we are also offering visitors outside China the opportunity to attend the exhibition virtually, in real time, which will give livestock professionals the chance to learn more about the Chinese livestock market and the technical challenges there," said Leely Zhang, Managing Director, DLG AgroTechService, China.
As the corona virus pandemic may limit attendance for some international visitors, EuroTier China LIVE, which is the name given to the virtual platform offering real time attendance of the exhibition, will be a unique opportunity to learn more about the technical trends in the Chinese livestock market.
EuroTier China LIVE – Online show catalogue with match-making service
Attendees wishing to attend the virtual event EuroTier China LIVE can register at www.eurotierchina.com/live and access all the latest updates from the show including live interviews with experts and exhibitors, close-ups on technical solutions and a range of conference highlights. In addition, attendees can connect with exhibitors live on a one-to-one basis through the online show catalogue, which has a new business match-making service. Detailed floorplans makes it easy to visualize the scope of the exhibition and the wide technical offering at EuroTier China. The online show catalogue will not only feature exhibitors participating physically in the show, but also will include exhibitors from all over the world participating in a virtual capacity. These exhibitors will present their products and services through descriptive videos and will benefit from the organizers' match-making services to connect and grow their network.
"Our teams located in China and Germany have put together a great programme packed with excellent and informative content, which brings together the best in the industry both directly onsite with the highest attention paid to the health and safety guidelines as well as digitally connecting the people all over the world, who may not be able to attend the show physically right now," said Peter Grothues, Managing Director, DLG Service.
New: German Pavilion organized by the Federal Ministry for Food and Agriculture
The Sino-German agricultural relationship will take centre stage at EuroTier China 2020 which is embodied in the German Pavilion showcasing German animal farming technology pulling together German companies such as Vogelsang, Caisley International, Stallkamp, Krone and many more As part of this project attendees can attend onsite and online presentations from invited guest speakers that include Axel Wildner - Counsellor Food and Agriculture of the Federal Ministry for Food and Agriculture (BMEL), Germany, and Sebastian Dern - Deputy Consul of the of German Consulate in Chengdu.
Live interviews with experts and exhibitors
Live interviews will be conducted with the feed associations from across China represented at the fair including from Beijing, Sichuan, Guangxi and Henan provinces. Further interviews and presentations will be conducted with exhibitors from Japan, Indonesia, Belgium, Norway, Denmark, Netherlands, Israel and Canada. These interviews will be broadcast through EuroTier China LIVE.
Partner exhibitors at EuroTier China 2020 including Famsun, Beijing Yahe, DadHank will also be presenting their latest offerings and innovations. Their interviews and presentations will be available online through the EuroTier China LIVE platform as well.
Expanded Technical Programme
Introduced this year as part of its expanded technical program of the second edition of EuroTier China, the organizers, the German Agriculture Society (DLG) along with its partners, offered four webinars, covering current topics in the animal farming segments of pork, poultry, dairy and aquaculture over the months of May and June. These can be accessed online https://www.eurotierchina.com/... technical programme onsite include the 4th China Animal Health and Food Safety Summit, World Waterfowl Industry Development Conference, as well as presentations on specialists topics such as the reduction of antibiotic use in feed and on the farm level, precision feeding of pigs and intensive treatment of manure and many more. The full programme can be accessed here: https://www.eurotierchina.com/... China is organized by the German Agricultural Society (DLG) along with its partners National Animal Husbandry Services (NAHS) and BTC with the aim of bringing together the global animal farming industry under one roof to showcase the latest in technology, innovation and know-how tailored to the Chinese and regional market. EuroTier China is held as part of a series that include EuroTier Middle East which takes place in Abu Dhabi from the 8-10 March 2020. The two trade fairs are regional extensions of the main EuroTier trade fair that takes place in Hanover, Germany. The next edition of EuroTier is to take place from 9-12 February 2021.