Broiler production: Big Dutchman presents new model of successful heat exchanger
Improving bird health, decreasing dust and odour emissions for the neighbours' benefit and reducing the impact on both the wallet and the ecological footprint by saving of up to 60 % of energy: Big Dutchman has been able to fulfil this wish of many broiler producers for more than ten years.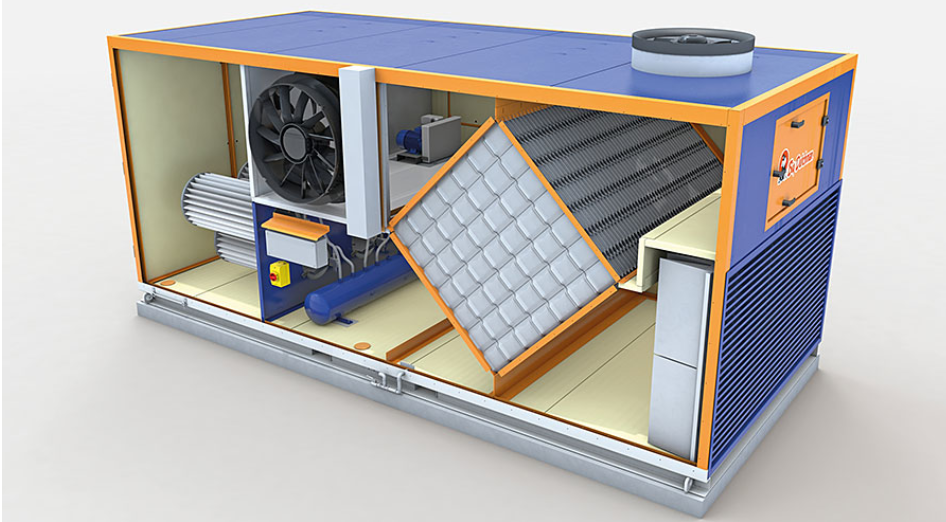 The solution is a heat exchanger inside a blue container installed directly next to the barn that is called Earny. Big Dutchman now presents a new model of this successful system.
The general principle of operation is incredibly simple, as the video linked here shows. Dust is filtered from the barn's warm exhaust air, and the air then flows into a heat exchanger element made of aluminium. Using the cross-flow principle and without any mixing or an additional energy source, the exchanger element heats the incoming fresh air. Whether the barn is new or has been renovated is irrelevant because Earny comes as a stand-alone unit that is ready to be connected.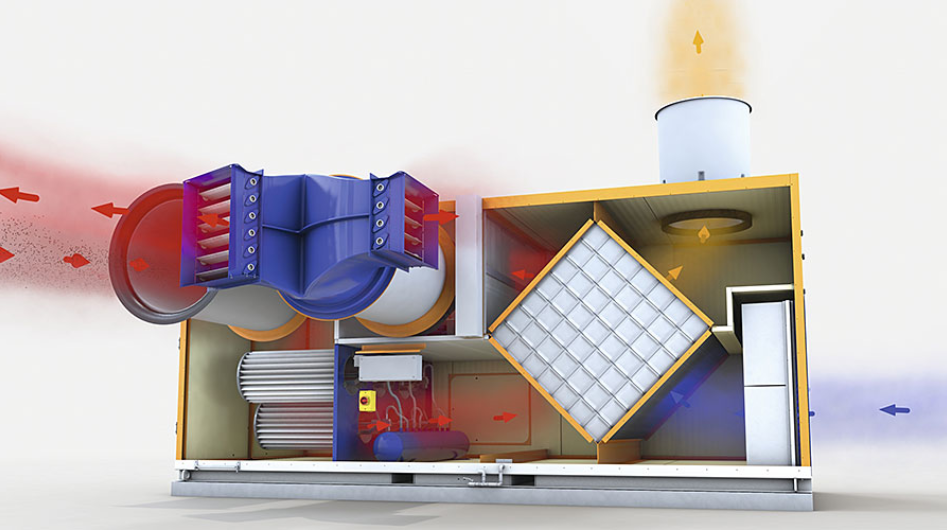 Story of success
More than 500 units are currently in use, turning the product into a story of success. "During development, we originally believed that we were working in a niche with low annual sales figures," reports Axel Schulz, a Big Dutchman development engineer who accompanied the history of Earny from the very beginning. "But the benefits for both birds and production in connection with attractive funding programmes regarding energy savings very soon indicated that we had underestimated Earny's potential."
Ten years later, a new model is available, which incorporates many improvements based on field experience. "We knew from the start that the Earny brand and product image would not change. This means that from the outside, the modifications are not even visible," explains product manager Vanja Cobec.
From the inside, however, the advantages of the new model become apparent very quickly: "The most important modification are the optimised aerodynamic properties, which increase the Earny's performance by nearly 20 %," says Axel Schulz, clearly happy with this result. "We also optimised a number of other details, making maintenance of a product that was already nearly fully automatic even easier." Additionally, helpful options such as a hot-water heater battery are now available. This battery heats up the warmed fresh air even further on very cold winter days, increasing the birds' comfort.
Broiler production with added value
It goes without saying that the customer can still take full advantage of all benefits. Heating cost savings of up to 60 % are often listed first, since they are easy to calculate. Improved production results thanks to increased bird health are just as important. "If you have a heat exchanger installed, you will ventilate more, with warmed and dry air," explains Cobec. This reduces moist litter, guarantees low CO2 and NH3 values – and improves footpad health.
Earny 2 thus directly influences production results, e.g. feed conversion. "In Germany, we have customers who save up to €9,000 in annual gas costs for a barn with 40,000 broilers. The improved feed conversion saves another €9,000," the product manager sums up.
While power consumption is higher compared to traditional ventilation, this increase is not a counter-argument: when using modern fans with a high efficiency class, costs will amount to no more than €800 per year, even in expensive countries such as Germany.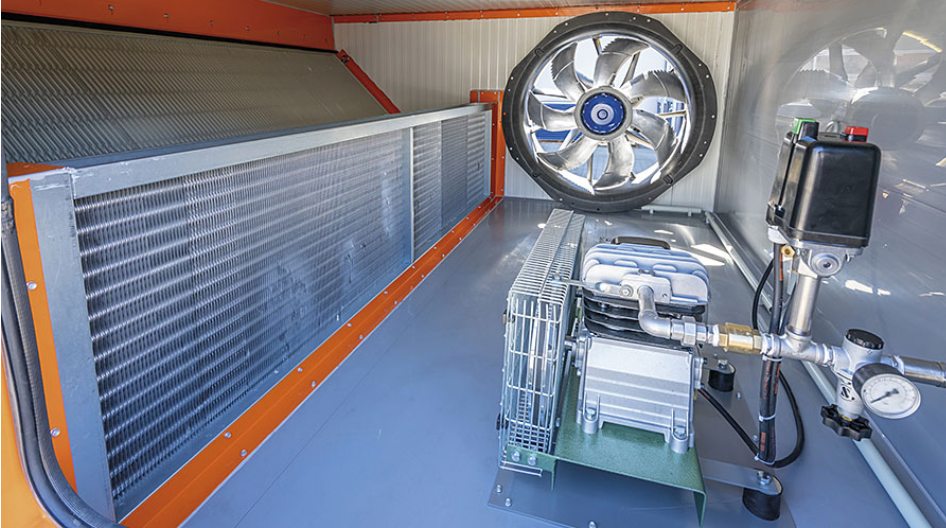 Environmental protection as added value
Apart from energy generation and increased animal welfare, the added value "environmental protection" is often underestimated – even though many livestock projects focus on emissions and environmental protection today. When planning a new barn, Earny 2 can even tip the scales: since dust is filtered from the exhaust air when it flows through the heat exchanger, the air quality clearly improves, also regarding ammonia and odours emissions.
Axel Schulz tells the following anecdote in this context: "A customer in Denmark reported that a neighbour called him very excitedly to thank him for discontinuing production in his barn. But the customer had simply retrofitted our Earny, and the neighbour no longer smelled the typical barn odours as a result."
Healthier birds, better production results and a noticeable, positive contribution to environmental protection, plus an amortisation period of two to four years: good reasons for many customers to trust in Earny 2.
Earny heat exchanger for broiler production
Filter unit: six large filter cartridges clean the exhaust air before it flows through the exchanger element.
To maintain a constant heat recovery rate over the entire batch, the filters are cleaned by a rotating compressed air nozzle several times per day and fully automatically.
If the warmed fresh air from Earny 2 is to be blown into the centre of a barn with high ceilings, a multiple-flap inlet is used