New study explores food prices around the world
COVID-19 has changed the price of food around the world.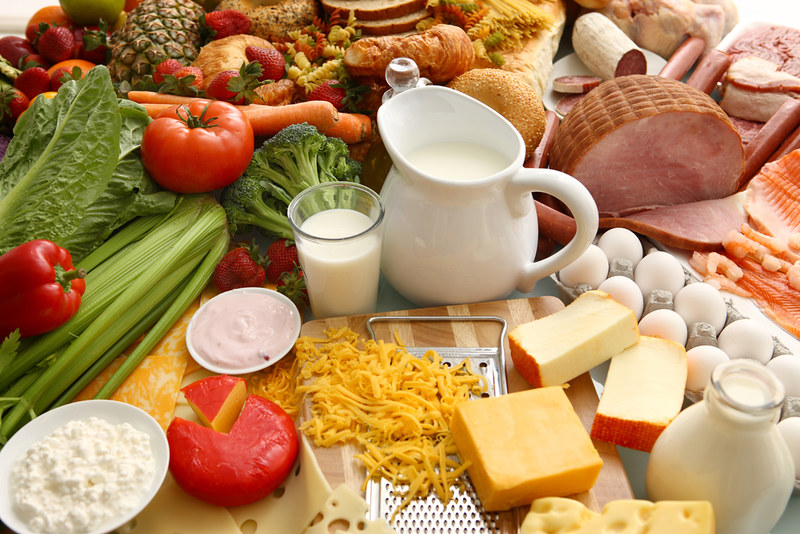 In a new study, Commodity.com wanted to understand how food price has been impacted worldwide from the coronavirus pandemic. It collected data from Numbeo, a crowd-sourced global database of reported consumer prices, and analyzed the last 12 months of data for insights. Here is how food costs in America have changed.

Food Cost Changes
This study analyzes the differences in the prices of food from 2019 to 2020. In America, a meal for two currently costs approximately $55, which is 10% more than the previous year.
Prices on individual items were compared as well. The top three foods with the highest percentage increase in price were a 1-pound bag of oranges (+8.4%), a 1-pound bag of tomatoes (+6.5%), and a dozen eggs (+6.3%).
Food items that had the lowest price increase were a McDonald's combo meal (+0.6%), a 12-ounce bottle of water (+0.7%), and a 1-pound loaf of bread (+1.1%).
There were two items on the list of consumables analyzed that actually had a price decrease – domestic beer costs dropped 6.6%, and a regular cappuccino lowered in price by 0.5%.
Cosmopolitan Tastes
A meal for two around the world varies in price, but how does the U.S. stack up? According to the study, the worldwide average cost of a meal for two is $42.90. No American city ranked in the bottom 10 least expensive cities for a two-person meal, but one did make the cut for the most expensive meal.
New York City ranked fifth on the list of top 10 most expensive cities for a meal for two at the cost of $100. It followed Reykjavik, Iceland ($115.35); Zurich, Switzerland ($113.92); Lausanne, Switzerland ($103.09); and Copenhagen, Denmark ($102.74).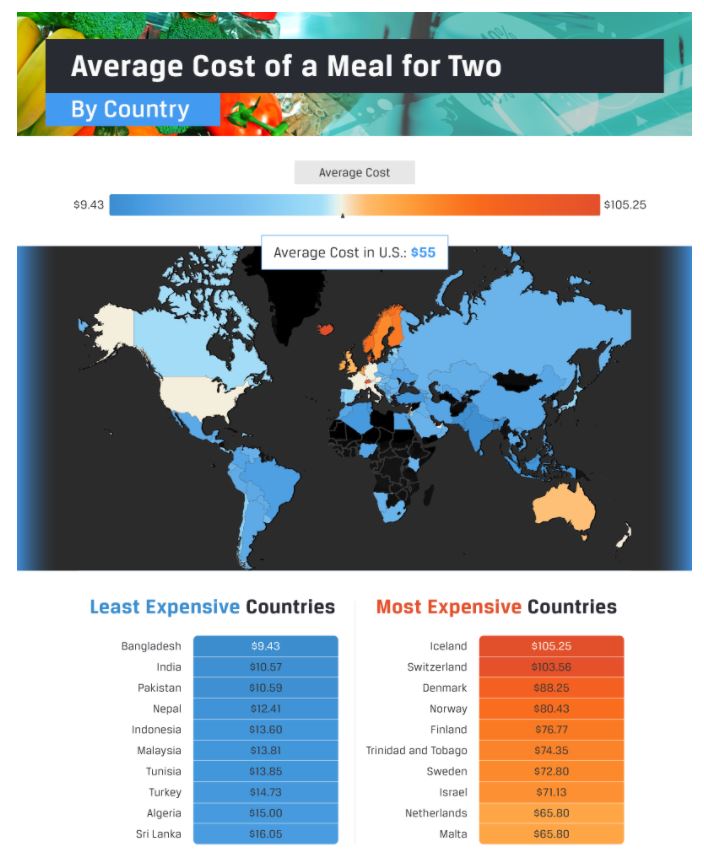 A few American cities ranked highest for the most expensive city for individual items as well, and they are listed as follows:

San Diego, California – 1-pound loaf of bread at $4.05
Boston, Massachusetts – 1-pound bag of onions at $5.01
Detroit, Michigan – 1-pound bag of oranges at $6.06
Philadelphia, Pennsylvania – 1-pound bag of potatoes at $4.26
New York City, New York – 1-pound bag of rice at $6.33
Tampa, Florida – 1-pound bag of tomatoes at $6.62
In 2020, the U.S. ranks as the twelfth most expensive country for groceries, dropping a spot from ranking eleventh in 2019. It also placed seventeenth for the most expensive country for restaurants.
No matter what country someone resides in, it seems like food prices have been affected in some capacity by the pandemic. While the reasons as to why those prices rose vary, the fact remains that grocery bills around the world have typically increased – many dramatically – over the past year.