EuroTier 2021 digital starts Tuesday, February 9
Julia Klöckner, German Federal Minister of Food and Agriculture, opens "EuroTier / EnergyDecentral digital" on 9th February. The livestock and renewable energy industry join to discuss trends for the future, including high profile panel discussions on current topics.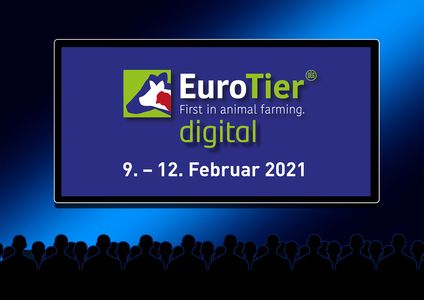 The digital technical program of "EuroTier / EnergyDecentral digital" will be offering more than 300 specialist topics as well as conferences and international industry gatherings with keynote speakers and panel discussions.
From 9th to 12th February, more than 1,400 exhibitors will be available on the digital business platform to present information on their product and service offerings, face to face via camera in real time. The complete program of events can be found here https://www.eurotier.com/en/fa... by choosing "Event calendar"

Located centrally at the internet address www.eurotier.digital.dlg.org/, the interactive platform "EuroTier / EnergyDecentral digital" is also accessible via both trade fairs, EuroTier.com and EnergyDecentral.com. All platform users – visitors, exhibitors and media representatives – will be using contact functions that are similar to those used on social business networks. In addition to these common features, a range of easy-to-use communication formats such as video meetings, video conferences, chat, text messages as well as comments are available to communicate with other platform users. Video communication is a core function of this new digital platform and switching between video conversations has been made easy.
When the four-day digital event concludes on 12th February, the "EuroTier / Energy Decentral digital" platform will remain open until 15th April, 2021. Up until this time, visitors will be able to consult the detailed presentations as recordings from the technical programme that were previously broadcast live during the online event. The technical programme, created by the DLG, is an important knowledge centre for livestock professionals.