Where are the E50 containers?
This week we have two good reasons to show you the Global Opportunities Map (available with Glowlit Pro) for Vitamin E50. The first and most obvious reason is of course the American flag color scheme. But perhaps the more important reason is that a quick glance at the map reveals what happens when global trade routes are stuck. The demand for feed in North America, with no containers to supply foreign produced feed additives, has led to massive arbitrage in price from one end of the world to the other.
The global price of Vitamin E50 decreased 3.43% over the last week. Interestingly, this comes as the number of E50 entries into the Glowlit platform increased. It could be the market reaction to several announced maintenance schedules of Chinese producers. Jilin Beisha Pharmaceutical, a producer of Vitamin E50 and Folic Acid in China, is planning to reopen their production line following a planned shut down from June 10th to July 20th. From July 10th, NHU's Shandong facility will begin a one-month maintenance shutdown due to steam pipe issues.
Benchmark your Vitamin E50 price to see a complete report.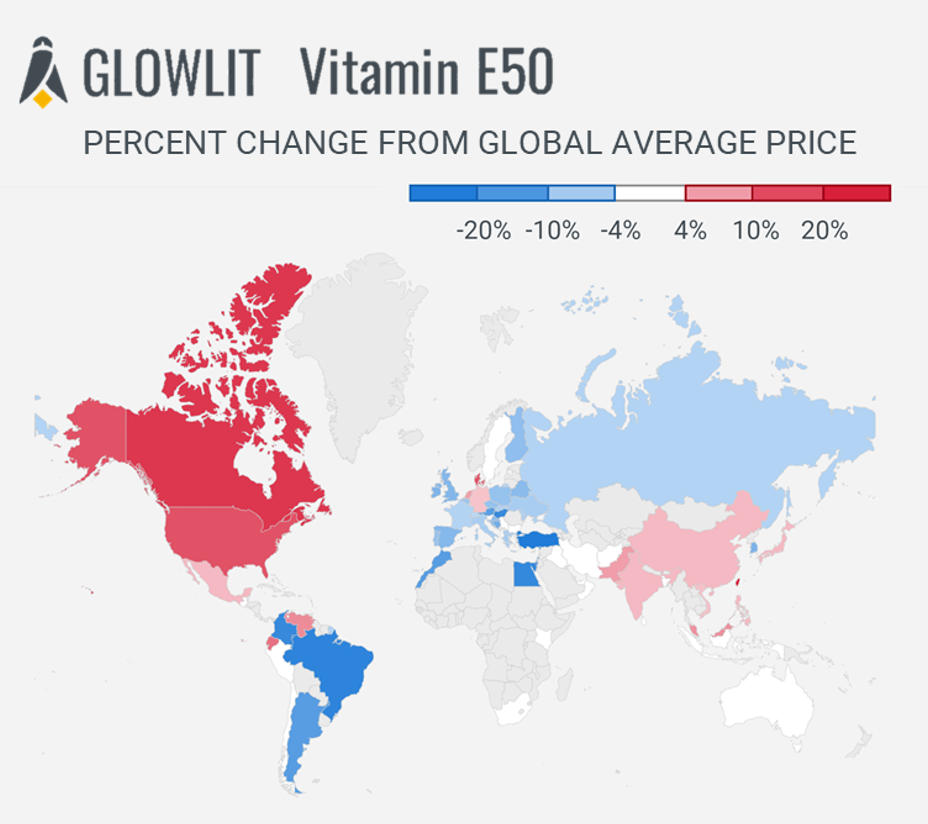 DDGS begins to climb following crash in price
The price of distillers dried grains with solubles (DDGS) has started a small climb following a crash two weeks ago. The global price of DDGS increased 2.2% in the last week. Higher soymeal prices are at least partially responsible. This follows bullish USDA acreage and stocks reports at the end of June. We'll be watching to see whether this upward trend continues. You can track it too by benchmarking your own DDGS price over the coming weeks.
Benchmark your DDGS price to see a complete report.