Aviagen Asia continues to strengthen "Local Touch" at International Poultry & Livestock Expo in Bangladesh
Aviagen is committed to the people of Bangladesh and helping to provide them with a steady supply of healthy chicken meat
The Aviagen® Asia Arbor Acres®, Indian River® and Ross® teams enjoyed meeting with customers and local growers at the 2022 International Poultry & Livestock Expo in Bangladesh, Oct. 13-15. The show took place in the capital city Dhaka, in the center of the country. Underscoring Aviagen Asia's commitment to local markets, all information was presented in the local language of Bengali, and a translator was on hand to ensure clear communication on topics relevant to Bangladeshi farmers.

With a population of nearly 172 million, Bangladesh is a country that boasts a rapidly growing economy, which is projected to increase 6.9% in 2022-23 (source: World Bank).
According to Dr. Rafael Monleon, Business Manager for Aviagen Asia Pacific, chicken meat lacks any cultural issues, enjoying a rising market share, and "offering a promising solution to fulfill the nutritional needs of the citizens with an affordable and sustainable source of protein for today and for future generations."
Arbor Acres, Indian River and Ross birds help farmers keep pace with this increasing demand for healthy chicken meat, while lessening the impact of food production on the environment.
"Our show theme of "breeding for welfare and sustainability" emphasizes that welfare and sustainability go hand in hand. The goal of our balanced breeding program is to advance bird health and welfare. At the same time, performance and sustainability qualities such as a healthy growth rate, livability, meat yield, feed efficiency and environmental resilience are continually improved," added Monleon.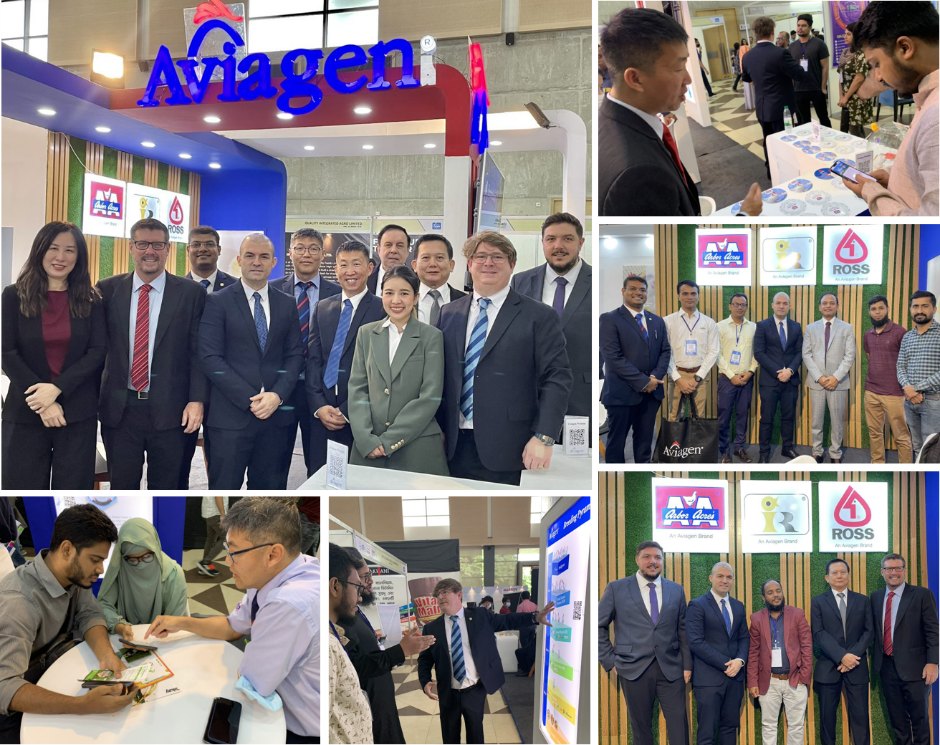 Poultry & Livestock Expo in Bangladesh follows Pakistan, Philippines and Vietnam as Aviagen Asia's fourth in-person local exhibition this year.
"Our aim for each show is to connect with, not only our customers, but also other poultry producers in each region, offering knowledge and having conversations in their native languages. This level of communication is important for us to develop close bonds with local communities, understand their challenges and learn how we can better serve their needs," commented Jaruvipa Tantisaswat, Aviagen Asia Pacific Marketing Manager.
"It was great to catch up with the Aviagen team at the Expo in Bangladesh and discussing the current challenges and opportunities facing our business," said Kazi Zahedul Hasan, Managing Director of Kazi Farms, Ltd.
Md. Mahiuddin, Sr. AGM (Production & Hatchery) of Provita Group added, "We appreciated having the topics shared at the show available in our Bengali language, as everyone gains a deeper understanding and can better relate to material presented in their native tongue."
Our local Aviagen representatives are committed to our success, and we meet with them regularly, both on site and at a variety of events. The Poultry & Livestock Expo offered another venue to continue those important conversations," concluded Chen Xianbing, President of New Hope Farms Bangladesh.
Next on the agenda for the Aviagen Asia team will be ILDEX in Indonesia, scheduled for Nov. 9-11, 2022.
For more information, please visit Aviagen.com, or follow Aviagen on LinkedIn.