Colony-type housing increases efficiency and reduces costs
By Kristy Nudds, Vencomatic. Published in the Canadian Poultry magazine.
Looking to increase the efficiency of his broiler breeder operation, several years ago Serge Lefebvre began shopping around for a system and barn setup that would help him achieve this goal.

His search would land him in Saskatchewan. There in December of 2000, North America's first Veranda system – a unique European housing system for breeders manufactured by Vencomatic – had been installed.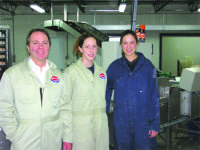 EFFICIENT MANAGER
Serge Lefebvre (left), pictured here with Ferme Avistar manager Stefanie Rheame, says that veranda system has offered efficiency and savings in three key areas: operating costs, labour, and production efficiency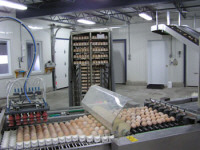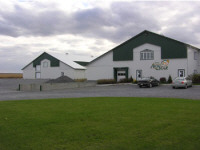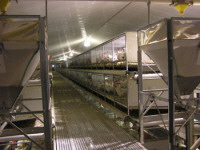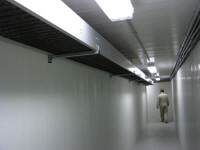 After touring the facility, Lefebvre was impressed with what the Veranda system could offer and construction began on his new breeder operation, Ferme Avistar, in 2002.

The Veranda system consists of verandas, large "modules" that are about four feet wide and 16 feet long. Each veranda has a community nest, 18 inches deep, running along the side. Each module houses birds and provides six separate systems built into it: feed, water, light, manure removal, minimum ventilation, and egg gathering.

Each module is a pen, although much larger than the cages seen in layer barns. David Thompson of Vencomatic Canada says that when people first view the system they often think of a traditional cage system, but this isn't really accurate. He says the Veranda system is better described as colony housing, which better captures the difference in size of a Veranda versus a cage.

The first barn at Ferme Avistar was completed in 2003 and the first flock of 20,000 birds was put in the barn in October of that year. A total of 336 pens were installed, with 21 pens per row, four rows in total, four tiers high. Each pen houses 60 female breeders, and typically six males but Lefebvre says that Ferme Avistar likes to use seven males per pen.

Lefebvre says that although the initial costs were high, the returns have definitely been worth the investment. The biggest savings have been with respect to energy. "This system has huge energy savings," he says. "It uses 25 per cent less energy than the floor system I was using previously."

The biggest energy saver is the installation of a heat exchanger, part of the Veranda system. This unit preheats outside air coming into the barn, while removing water at the same time. "It's amazing how much water comes out," says Lefebvre.

This not only makes for a healthier environment for the birds and workers, but it helps dry out the manure on the belts. Ammonia levels are greatly reduced and a consistent temperature and ventilation flow can be maintained.

Savings are also realized by reduced labour costs and greater egg quality. "There are no more floor eggs, they're all collected. I don't have to worry about the cost and hassle of wood shavings," he says. It now only takes two or three people to run the barn as well as the second barn, built in 2006, which also houses 20,000 birds.

Most eggs are laid in the nests but if an egg is laid in the pen, the verandas have a special plastic flooring that is sloped so that these eggs are delivered into the nest and then onto the egg belt. Not only are the eggs cleaner, complete collection also results in greater hatchability. Although he says that there isn't much difference in the number of eggs laid per hen, "right now we are getting on average 130 live chicks per hen," says Lefebvre.

Ferme Avistar has also experienced reduced mortality (especially in males) something Lefebvre says is a "big advantage," as well as greater feed efficiency. Lefebvre estimates that Ferme Avistar is using five to eight per cent less feed (kg/bird) compared to the former floor operation. The birds can work out their pecking order in a veranda and don't expend as much energy getting to the feed.

To enhance biosecurity the two barns are joined underground by a tunnel, with the egg belt from the second barn running along the top of the tunnel into the first barn, which houses the packing, washing, and grading machines. Ferme Avistar installed a Prinzen packer and grader, which allows instant readings of egg weights, allowing barn manager Stefanie Rheame to know if something is "off" with the birds.

Egg weights are determined in the egg handling system daily, allowing for greater management of bird weights and monitoring feed intake. Because the verandas are so large and open, it also allows for Rheame, Lefebvre or other employees to easily view bird behaviour and monitor any performance problems.

"We're really enjoying the system," says Lefebvre. "It's working very well."

Although the system may seem foolproof, it does require good management, says Thompson. "The system responds very well to good management. Serge and the crew at Avistar have really shown what you can do with this system."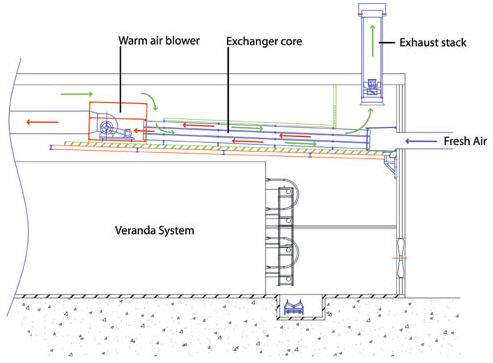 Veranda heat exchanger
October 2007