Flock management tip for broilers: Pre-processing management, have a checklist in place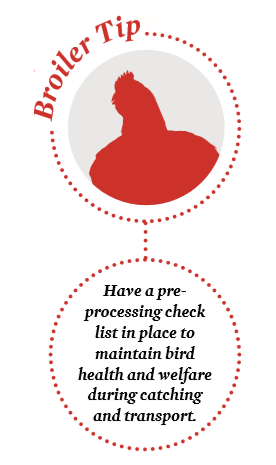 Attention to detail during the final phase of production ensures that broilers are transferred to the processing plant in optimal condition; meeting processing parameters and minimising the impact on bird welfare. Having a preprocessing checklist in place will ensure a smooth and successful transition from the farm to the processing plant.
A pre-processing checklist should emphasise:
Proper preparation and catching procedures

Correct bird handling.
Suitable environmental conditions.
Appropriate use of equipment.
Monitored feed withdrawal.

Well-planned transportation and processing plant delivery.