Infectious Bronchitis: Control Must Match the Challenge
Effective control of infectious bronchitis requires a comprehensive knowledge of the specific field challenge – and a new diagnostic tool being developed in Europe could help achieve just that, according to a leading French poultry vet, speaking at a technical poultry symposium held last month, supported by Pfizer Poultry Health.
French poultry veterinarian, Dr Jocelyn Marguerie, says infectious bronchitis (IB) has regularly mutated since its discovery in 1931, meaning there are now numerous strains that need to be considered when planning a control programme.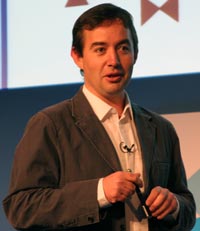 Dr Jocelyn Marguerie
"New variants are appearing constantly, associated with exchanges of genetic material or mutations. Some of these mutant viruses cause new infections – for example, false layers with the oviduct affected at an early stage – or partial or total evasion of the protection conferred by vaccines."

Infectious bronchitis is considered one of the most widespread respiratory diseases in poultry, affecting chickens of all type and ages. An estimated 70 per cent of broiler flocks have been exposed to a wild IB virus in France, Dr Marguerie says.

"So there are constant questions from producers asking whether they have an IB problem, whether they should revaccinate during the breeding period and if so which vaccine should they use and when.

"To answer these questions we need to know what the situation is in the field. We need to identify the needs of the poultry industry, particularly with regards to vaccination."

In line with this, different sectors of the poultry industry have expressed a need to refine information on the regional levels of IB infection and to develop the tools and protocols needed for prevention, Dr Marguerie says.

"Through their geographical links, the Résalab partner laboratories in the Réseau Cristal have been able to make a considerable contribution to these expectations in the field, working with a Pfizer Poultry Health team."

Working with Pfizer Poultry Health, Résalab developed specific expertise in the diagnosis and epidemiological characterisation of IB. In addition to the standard Elisa serology, Résalab carried out a specific and semi-quantitative serology in France: IB Haemagglutination Inhibition (HI test) assay.

The principle of this technique is a visual reading of the haemagglutination of increasing dilutions of a serum added to purified erythrocytes and a calibrated antigen of an IB sub-type. Effectively, this HI test enables a refined diagnosis of the presence of IB by determining the sub-type responsible.

Dr Marguerie explained: "The technique could change the IB control strategy in time and space terms. The IB HI test conducted on a sample of flocks of chickens of different ages should enable us to determine the regional development of the pressure from each sub-type of the IB virus – achievable in real time without waiting for the appearance of symptoms or a decline in production performance.

"This is a good example of intelligent co-operation with our partners in the pharmaceutical industry. Veterinary surgeons and their laboratories contribute knowledge of the local area and its needs and then assist with the concrete implementation of the solutions provided by industry.

"Working together, we are hoping to make BI HI test an exemplary diagnostic and epidemiological tool for use across the industry. It will allow us to use the correct control options to achieve reliable, high quality poultry production at the right cost," he concluded.
Further Reading
| | | |
| --- | --- | --- |
| | - | You can view the previous article on this symposium by clicking here. |
December 2010