Minimum Hatch Window, Maximum Chick Quality
Petersime has already delivered close to 400 units of its Synchro-Hatch technology since its launch in 2009. The technology improves chick uniformity by minimising the hatch window. It avoids both dehydrated early birds and wet late birds, thus increasing overall chick quality significantly.
Impressive Field Results
"Since the launch of Synchro-HatchTM at the VIV Asia trade fair in March 2009, our new technology has been adopted by many customers throughout the world," said Geert Callens, Strategic Business Development Manager at Petersime.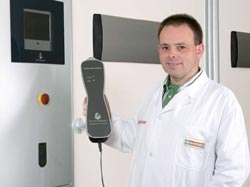 Gudo Mollen, Hatchery Manager of Willems Spoormans NV
"At the time of this article going to press, sales figures stood at close to 400 units, proving the success of Synchro- Hatch in the market."

Synchro-Hatch reduces the hatch window by an average of 30 per cent (see graph). It also increases egg hatchability by an average of 0.77 per cent.

"Figures show that customers who invest in Synchro-Hatch benefit from a return on investment in less than one year, which explains its market success," added Geert Callens. "Moreover, the shorter time to first feed and the better end weight uniformity result in additional considerable profit gains in the rest of the food chain."
Narrowing the Hatch Window
Synchro-Hatch ensures that the first egg hatches as late as possible, and that the time frame between the first and the last egg to hatch is reduced to a minimum. If the chicks stay in the hatcher too long, they will dry out. Synchro-Hatch avoids both dehydrated early birds and wet late birds, thus increasing overall chick quality significantly. The reduced hatch window results in greater chick uniformity, lower post-natal mortality and improved feed conversion.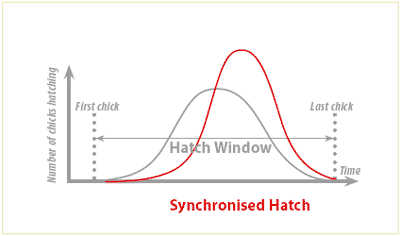 Synchro-Hatch enables a much smaller hatch window
Mimicking Natural Patterns
Roger Banwell, Senior Incubationist at Petersime, explained: "The system monitors the entire hatching process by means of a sensor that is attached to the hatching basket.

"This sensor is placed as close as possible to the eggs without touching them. The system detects precisely when the first eggs are ready to hatch. Delaying the hatching of the first eggs is accomplished by adapting temperature and humidity, thus mimicking natural patterns. Once the first eggs are ready to hatch, Synchro-Hatch automatically brings the egg environment into a position that encourages the chicks to break out more rapidly. As a result, hatchery managers also know with greater precision when the eggs will hatch."
Reproducing Natural Interplays
The system features a sensor that is placed as close as possible to the eggs
Synchro-Hatch is part of the Petersime patented Embryo-Response Incubation technology, which reproduces the most natural environment for the embryo.

A unique feature of the technology is that it reproduces the natural interplay between a hatching chick and a parent hen.

Dr added: "Once a chick is ready to hatch, for instance, it enters the air cell within the egg and emits a signal that 'calls' the parent hen.

"Synchro-Hatch detects these signals and mimics the response from the parent hen by adapting the hatching environment accordingly and automatically."

November 2010