The Benefits of Building New Facilities
By David Schmidt, Canadian Poultry magazine. What do you do when your poultry or dairy facilities get too old to carry on? Generally, you have two choices: quit or build new facilities.
Recently, several B.C. broiler hatching egg producers, most either aging or with aging facilities, opted to quit, making a substantial amount of quota available to new producers.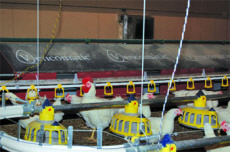 EUROPEAN TECHNOLOGY
A close up of the raised area in one of the barns.
Bothers Pieter and John Verdonk of Abbotsford, B.C., opted to do both: quit (dairying) and build new (broiler breeder) facilities. The two brothers had been dairying in the Fraser Valley for about 50 years, steadily building up their herd. Along the way they also acquired broiler quota and for the past twelve years have each been raising about 60,000 birds/cycle. A little over a year ago, they concluded that their dairy facilities were outdated and needed to be upgraded in order for the two of them and their next generation to continue.

They decided to quit dairying.

"It was a lot of work and I couldn't do it anymore," Pieter explains.

Since their children were still interested in farming, they chose to take advantage of the available breeder quota to become hatching egg producers. Pieter and his daughters Joanne, Elaine and Mary-Anne, and son-in-law, Ed Friesen, formed JEM Poultry while John and his sons Mark and John Jr. formed JMJ Poultry. Between them, they acquired over 10 per cent of B.C.'s broiler breeder quota and worked with local poultry equipment dealer Dave Jonkman of Jonkman Equipment to create the province's newest state-of-the-art broiler breeder facilities.

The decision to switch suited the three boys (Mark, John and Ed) who note that, unlike dairying, hatching eggs are not weather-reliant nor do they require field work and its associated equipment.

It also suited the two fathers.

"We could spend the same amount of money to build the broiler breeder facilities as it would have cost to build new dairy facilities," Pieter notes.

The two operations are separate but the two families remain closely aligned. Their facilities are mirror images of each other, employing the same design and same equipment. Flocks in the two farms are offset so one can spike the other.

The facilities represent the first two installations of their type in B.C. and only the second and third in Western Canada. Each facility includes four barns linked by a common headhouse.

Each barn is sized for up to 6,250 birds (but now house about 5,000 apiece). Running down the centre of each barn is a row of Vencomatic community nests with automated egg collection belts, mounted on a wide raised, slatted roosting area. On either side of the roosting area is a row of automated Roxell loop feeders and Lubing high-flow nipples with catch cups. Each barn is also equipped with two Norsol bird weighers, Norsol ventilation controls, a variable Norsol lighting program, Norsol Agri-Alert alarm system and Jonkman's own KeepKool misting system. Norsol silo load cells and controls are used to fully automate the feeding system.

At the heart of the entire system is the Prinzen PSPC egg packer, specifically designed for hatching eggs. Located at one end of the headhouse, it is fed by a Vencomatic belt rod conveyor which runs the length of the headhouse, receiving eggs from each of the four barns.

Add it all up and it's "equivalent to over 30 broiler barns in terms of equipment," Jonkman says, with the Verdonks noting the plethora of new equipment brought its share of detractors. "No one believed it would all work."

"The only reason we bought it was because it was Dutch. If you ain't Dutch, you ain't much," Pieter says with a laugh, then adds more seriously, "the Dutch are way ahead of North America in terms of technology."

The packer offers a host of features and fail-safes to not only automate but also optimize a broiler breeder operation. The packer operator can select which barn(s) to collect eggs from at any given time. Although just one person can operate the machine, the Verdonks usually use two people for egg collection, comfortably collecting over 8,000 eggs/hour.

"This allows us to visually inspect each egg three times during the process," the boys explain.

While it appears to run continuously, the grader actually stops and starts on a split second basis to weigh each egg individually. It then automatically separates undersize (under 52 grams) and over-size (twin-yolk) eggs and sends them into a special catch tray. The oversize weight is set at 72 grams when a flock first comes into production but adjusted upward as the flock ages and overall egg size increases (meaning the weight of double-yolk eggs also increases).

Eggs in the main egg flow are automatically placed in trays with a 99.7 per cent points-down accuracy. The system will stop if the packing tray is full. A read-out on the grader shows the average egg weight and what percentages of eggs are under or over-sized.

"The most important thing about this equipment is it gives us instant information on what the birds are doing," the boys say, "we're three to four days ahead of everyone else in terms of information. When you cut back or change feed, you can see the results the next day or two in the egg weights."

The Verdonks admit it takes the birds up to three days to adjust to the system but once they do, it is clear sailing for the balance of the flock life.

"We get very few floor eggs and almost no dirties. We really don't need a washer," they say.

Initially, all the computerization can be daunting but once the operators get used to it, it, too, is clear sailing. "You can't be shy to read the manual and you need a feed rep who understands the information the equipment can provide."

They are very complimentary of the equipment, saying that despite its |intricacy and massive throughput, it is incredibly gentle. "The machine doesn't crack eggs. We've even had shell-less eggs go through the entire system without breaking. Most of our broken eggs are because of us."

The Verdonks say one of the best features in the barns are the Lubing waterers with their high-flow nipples and over-size catch cups. The birds drink all the water with virtually no spillage.

"We save about 150 to 200 litres of water per day" which would otherwise end up in the litter, the boys state.

The Verdonks recognize their setup may cost more but say it is easy to justify, using their dairy background to illustrate it.

"This is a working tool," they say, "people aren't afraid to spend money on a tractor which sits idle three-quarters of the year. Our machine runs twice a day, 365 days a year. Given the cost and availability of labour, the machine doesn't cost, it pays."
As Published in Canadian Poultry, October 2007