To manage IBDV, 'let the bird tell you what to do'
Conventional wisdom dictates that infectious bursal disease virus (IBDV) field strains should determine the vaccine strategy
However, a recent study from Brazil indicates the reverse is also true: The vaccine strategy can influence which IBDV field strains appear - and understanding and monitoring these dynamics are critical to the long-term control of the disease.1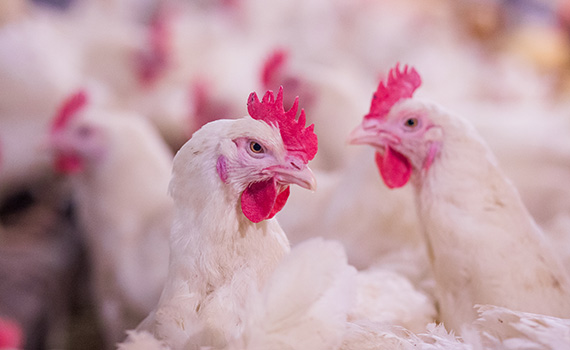 The 4-year study, published in The Journal of Applied Poultry Research, looked at bursal tissue samples from IBDV-positive commercial broiler flocks in Brazil that had been immunised using one of three different IBDV vaccine strategies: a turkey-herpesvirus vectored IBD vaccine, an antigen-antibody complex vaccine or a conventional live vaccine. While half the IBDV-positive samples were compatible with vaccine genotypes (classic IBDV), as expected, the other half were classified as variant or very virulent field strains.
According to Eduardo Muniz, DVM, a poultry veterinarian at Zoetis and one of the study's authors, the high detection rate of variant and very virulent field strains in vaccinated flocks illustrates the virus' well-documented tendency to evolve to overcome the immune barrier.
No IBDV vaccination strategy is perfect in all situations, he explains, and the similar IBDV detection rates found throughout the country indicates IBDV field challenge is uniformly present in Brazil.
However, Muniz adds, the frequency and genetic profile of the field viruses recovered - in other words, the incidence of vaccine, variant and very virulent samples from a particular flock - appeared to be highly dependent on the vaccination strategy that was used (Table 1).
Table 1. Results of IBDV analysis according to vaccination programme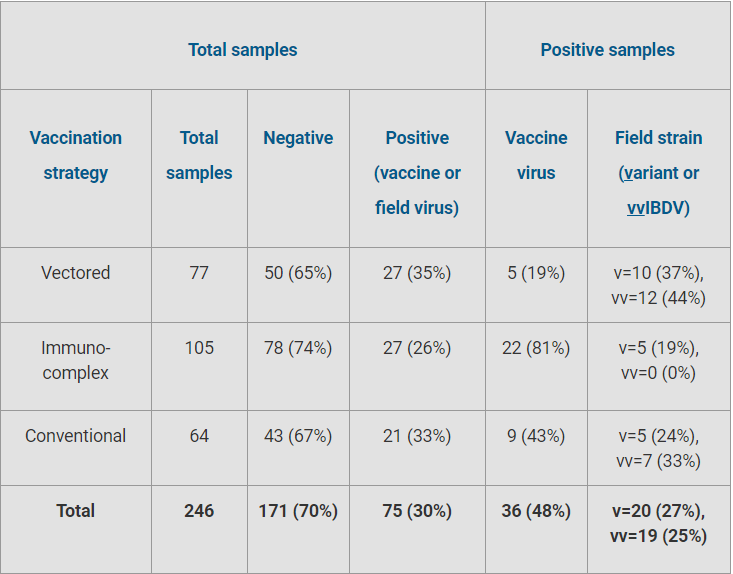 "This was especially clear with the group of birds that had received the vectored vaccine over a long period of time, in which we found a much higher frequency of variant or very virulent field strains," Muniz says. In this group, 22 of 77 (29 percent) total samples tested positive for the field strain, compared to 5 of 105 (5 percent) for the immune-complex vaccine group and 12 of 64 (19 percent) for the conventional vaccine.
This does not mean that the vectored vaccines are inadequate or less effective than the other vaccines, he stresses. In fact, they confer a number of important advantages, including excellent safety and broad cross-protection.2,3 They can also be used in the presence of maternal antibodies and confer a long duration of immunity.
The difference is that, unlike conventional and antigen-antibody complex vaccines, vectored vaccines don't contain IBDV. As a result, they don't shed through the feces and colonise the environment. (In the study's vectored-vaccine group, the small number of vaccine-virus isolates detected were remnants of live vaccines given in previous flocks or had come from neighboring farms, Muniz explains.)
"This basically means that when vectored vaccines are used, field strains continue evolving independently, without competition from vaccine strains. Over a prolonged period, this could result in increased field challenge," he says.
"Regular monitoring is therefore critical. As soon as an increased challenge is observed, it's probably time to rotate the vaccine programme."
Ensuring efficacy
According to Muniz, the findings from this study provide additional scientific data to support the selection of the most effective vaccination strategies, products and practices to prevent IBDV, which remains a costly and highly contagious disease worldwide.
When selecting an IBDV vaccine, it's critical to match the vaccine antigen to the field strain, he says. Once a vaccine strategy is implemented, the best way to assess its efficacy is by monitoring zootechnical parameters, such as mortality, secondary infections and immunosuppression. Sanitary monitoring can be done through necropsies and by observing the size of the bursa of Fabricius (bursometry), the avian lymphatic organ that is the primary target of IBDV.
Laboratory tests, such as serology and polymerase chain reaction with sequencing, are important, ancillary tools to assess whether field challenge is increasing and if there is a need to rotate the vaccine programme, he adds.
"There are several IBDV vaccination strategies to suit different situations. Under the right conditions, vectored vaccines are highly efficacious and offer several important benefits," he says.
"But after an extended time using a vectored vaccine and the same litter, a rotation may be necessary with an antigen-antibody complex or conventional live vaccine to replace field strains with vaccine strains - something that's known as the 'cooling effect' of the broiler house.
"Once again, though, there is no perfect vaccine category for all situations, so the best way to ensure the long-term efficacy of IBDV vaccination programmes is to monitor them continually," he concludes. "The birds will tell us what to do."
To view the full study, click here
https://academic.oup.com/japr/article/27/2/253/4587964
Bublot M, et al. Use of a Vectored Vaccine against Infectious Bursal Disease of Chickens in the Face of High-Titered Maternally Derived Antibody. J Comp Pathol. 2007;137:S81-S84.
Le-Gros FX, et al. Field efficacy trial of a novel HVT-IBD vector vaccine for 1-day-old broilers. Vaccine. 2009;27:592-596.