Vencomatic: Much More Than Steel and Plastic
Koen Boot, General Manager of Vencomatic, explains the keys to success as a leading supplier to today's poultry industry to ThePoultrySite editor, Jackie Linden.
Koen Boot has been General Manager of Vencomatic for two-and-a-half years, since founder and owner of the company, Cor van de Ven, stepped back. Mr Boot started with the company as a mechanical engineer in way back in 1994, when Vencomatic was still a small-scale company. He became operations manager in 1996, and facilitated Vencomatic's growth by teaming up the operations side of the company.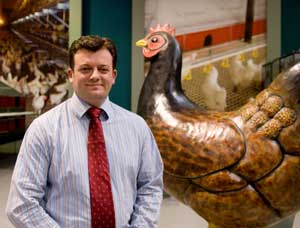 Koen Boot
General manager of Vencomatic
Today, as general manager, Mr Boot still sees the growth potential in the company. He explained: "With the strong product line we have, and the worldwide network we have set up in the last years, we are ready to make the next step in our companies growth."

He sees three main strengths of the company. Firstly, it is their innovative products and concepts, such as the Patio system for hatching eggs and rearing chicks. This also covers internal processes. He cited the heavy investment in automation in sister company, Vencosteel.

Mr Boot said: "By being innovative in production processes, we manage to keep our production in the Netherlands. This makes us flexible and we can assure a high quality product."

Secondly, Mr Boot finds a local presence an important strength. This goes beyond the sales support provided by dealers. He gave the example of the affiliate in Brazil, which was started 10 years ago because of the high import tariffs and now supplies 20 markets in South America. Vencomatic also has a joint venture in China, which produces and sells within that country, and it has recently teamed up with Spanish company, Gura, to set up a new company Venco Iberica.

Mr Boot said: "Next to the Vencomatic companies, we are working alongside our sister companies: Prinzen, specialist in egg packing and handling, and Agro Supply, specialist in on farm climate improvement. Together with these sister companies we form a strong team and are able to provide farmers with complete solutions for their poultry house."

As the third strong factor in Vencomatic, Mr Boot mentioned the employees, who number more than 100 in the company and 250 in the Venco Group as a whole. The company invests in training and as a result, the staff remains loyal. "All our employees are challenged in their daily jobs. We want to make sure we get the best out of everyone, regardless of whether if one is a mechanical engineer or works in the warehouse."
---
*
"We don't sell steel and plastic. We sell practical management tools for poultry farmers."
Koen Boot
---
Regarding the future, Mr Boot emphasised the commitment of the company to the poultry industry, and to maintaining its European base. The coming layer cage ban is at the root of these commitments, as animal welfare is the main driver. The company has come up with designs from the bird's perspective.

He said that, like the aviary systems for commercial layers, "In the past, layers where housed in cages, and the farmer controlled his birds. As these birds now have to be free to move around in the poultry house, we need to design our systems in a way that farmers are able to manage their birds."

Another welfare friendly example is the Patio system, which provides conditions that are less stressful to chicks at hatching, as both feed and water are provided immediately. An other important issue is the fact that we rear the birds in the Patio in the litter and not on a slatted area. These developments are influenced strongly by the demands of leading retailers and fast-food companies and by consumers.

The demand for clean eggs drives Vencomatic's broiler breeder and layer breeder businesses, said Mr Boot. This leads to automation of the collection and packing processes. The importance of biosecurity and hygiene may have first been recognised in western countries but it is now valued in Brazil and China too.

A new segment for Vencomatic, said Mr Boot, is knowledge and education. Customers are getting bigger so the one-man businesses now need to employ more people, yet there is a shortage of skilled labour. The time and cost of training makes it all the more important to get the best from staff, and Vencomatic is now helping by organising training sessions for its larger customers.

Mr Boot summed up the philosophy of Vencomatic by saying, "We don't sell steel and plastic. We sell practical management tools for poultry farmers."

September 2008