Women in Poultry: Elvia Maria Lemos
Learn more about Elvia Maria Lemos a zootechnic, marketing, production and poultry specialist for Hy-Line International
Elvia Maria Lemos is a zootechnic, marketing, production and poultry specialist. For more than 20 years she has been performing in monogastric nutrition in the Colombia and Peru markets. In the last's years of her professional life, Elvia Maria has been focused on the allometric development of the birds with the objective of gaining more effective production, highlighting the genetic development that has been growing hand-in-hand with her working area of the Hy-Line International team and LatAm region clients.

Describe a typical day in your current role?
A typical day is split between spending time with my family, husband and son in the morning and at the end of the day, whilst my working hours are focused on supporting Hy-Line customers with nutritional advice.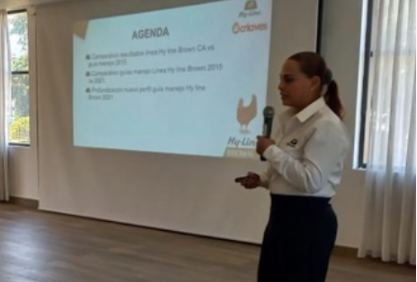 What's unique about your role?
I contribute to feeding the world's inhabitants! Eggs are an excellent and affordable protein source and my role helps poultry producers to deliver more top-quality eggs.
What are the main challenges that you face in your role?
Problems associated with raw material quality, low zootechnic performance, hygiene problems and production costs.
What does the future of poultry health look like in terms of preventing and treating disease?
We need to continue the dramatic advancements that we have made in recent years while at the same time seek alternative ways of improving bird health. Achieving consistent performance is an important goal along with improving biosecurity.
Are there individuals or organizations in poultry who you've found particularly inspirational?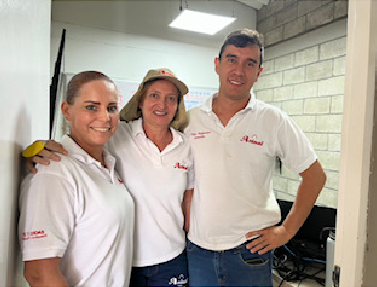 Breed companies seem to me to be very inspirational.
Have you encountered any challenges as a woman in your field? If yes, how have you overcome them?
Yes, proving my credibility to the people in the field who perhaps felt I had technical knowledge but not practical skills. It is important to not just have the theory, you need to know how to implement any recommendations you make. That way, you generate credibility.
What outstanding challenge facing the poultry industry would you most like to solve?
Improve the analysis of data. There is a lot to be learned from the information we have available, but I feel we don't use it to its potential.
What's the most exciting innovation that you see on the horizon for the poultry industry?
Biodiversity to meet the needs of consumers who are better informed and have greater expectations. This will help eggs as a protein source be more valued by consumers and not simply viewed as a commodity.
What are you most excited about in the next 5-10 years regarding the poultry industry?
I'm most excited for dynamic evolution to continue in every aspect of the industry, including genetics, technology and nutrition, leading to improved reliability and sustainability.
What's your next challenge?
As a professional it is to continue sharing the innovations in poultry nutrition to help improve the profitability of our customers. On a personal level, it is to continue evolving as a human being.

September 2023 - November 2022
---