Women in Poultry: Olivia Wedegaertner
Learn more about Olivia Wedegaertner, US turkey account manager for Zoetis
Olivia Wedegaertner, PhD, is the US turkey account manager for Zoetis. She holds master's and doctoral degrees from North Carolina State University, where she focused on poultry nutrition. She joined Zoetis in April 2022 and manages all turkey accounts, bringing her extensive knowledge and passion to help customers in the turkey industry.

Describe a typical day in your current role?
Every single day is completely different, which I love. Much of the time, I am in the field, working very closely with our turkey veterinarian, David Rives, DVM. We visit all the turkey accounts across the country. In the field, a lot of time is spent at posting sessions where turkey producers bring turkeys for a necropsy session to evaluate flock health. We also collect gut scrapings to look for coccidia and evaluate how coccidiostat products are performing to inform management recommendations.
When I'm not in the field with turkey producers, I'm attending conferences and seminars or presenting at small poultry schools that I hold for customers. Other days are spent planning engagement activities with customers.
What's unique about your role?
I am the only account manager for the entire turkey segment for Zoetis, so that puts me in a unique position to engage with nearly every turkey producer — whether their operation is big or small.
I get to see the entire industry from a bird's-eye view. My role has given me a strong perspective on how the turkey industry works — how it's all tied together from nutrition to veterinary work to pharmaceuticals. I get to see everything about the turkey industry from hatchery to production, and from one company to the next from the East Coast to the West Coast.
What are the main challenges that you face in your role?
A main challenge is finding ways to support turkey producers in managing flock health without having many products available. We try to connect producers with available resources, such as a recent roundtable Zoetis sponsored on turkey health, as well as provide flock health evaluations and insights into biosecurity recommendations and other turkey management tools.
Turkey producers often need to rely on disease prevention, such as keeping up on biosecurity and management protocols to help minimize health challenges that occur, and I work to provide guidance to producers despite a gap in turkey-approved products in the disease management toolbox.
Another big challenge we've been facing in the turkey industry has been highly pathogenic avian influenza (HPAI), which has hit the Midwest turkey industry hard over the last year and a half. We try to support turkey producers in high-risk areas by helping with biosecurity checks and recommendations.
Are there individuals or organizations in poultry who you've found particularly inspirational?
Many individuals throughout my career have inspired me and given me motivation. The first is Chongxiao (Sean) Chen, DVM, PhD, who is now at the University of Georgia. He was a phenomenal adviser and a huge inspiration to me.
Another person who I work with a lot now, Dr. David Rives with Zoetis, is a big inspiration. I have learned more from him than I could ever put into words.
What outstanding challenge facing the poultry industry would you most like to solve?
Turkey producers are often left with preventing disease or dealing with disease challenges when they occur because of the lack of products specifically developed for turkeys. I would like to help the turkey industry have more awareness of bird health management innovations that can help set up their turkeys to be healthy and productive.
What are you most excited about in the next 5-10 years regarding the poultry industry?
In the next five or 10 years, I'm most interested in seeing how technology and modern equipment will be adopted by the turkey industry and the larger poultry industry. In crop production, there has been a rapid adoption of new technologies, such as self-propelled tractors, precision fertilizer applications and other innovations. There are a lot of opportunities to bring innovation, new tools and equipment to animal production, especially turkeys.
I'm excited to see how sensors, cameras and other advanced tools will allow turkey producers and farmers to do their jobs more effectively and efficiently. I think in the next five or 10 years, we're going to see a lot more of that technology advancement in turkey houses, which will be pretty cool.
What's your next challenge?
For me, I go day by day, helping customers as much as I can. I make sure that, if any of my customers have a question, I can point them to someone who can help answer it and support them to continue caring for birds in the best ways possible.
For the whole turkey industry, ongoing challenges of avian influenza and other health challenges will require innovative thinking, a continued focus on biosecurity and supporting birds with a healthy environment within turkey houses to help reduce the risks of disease transmission.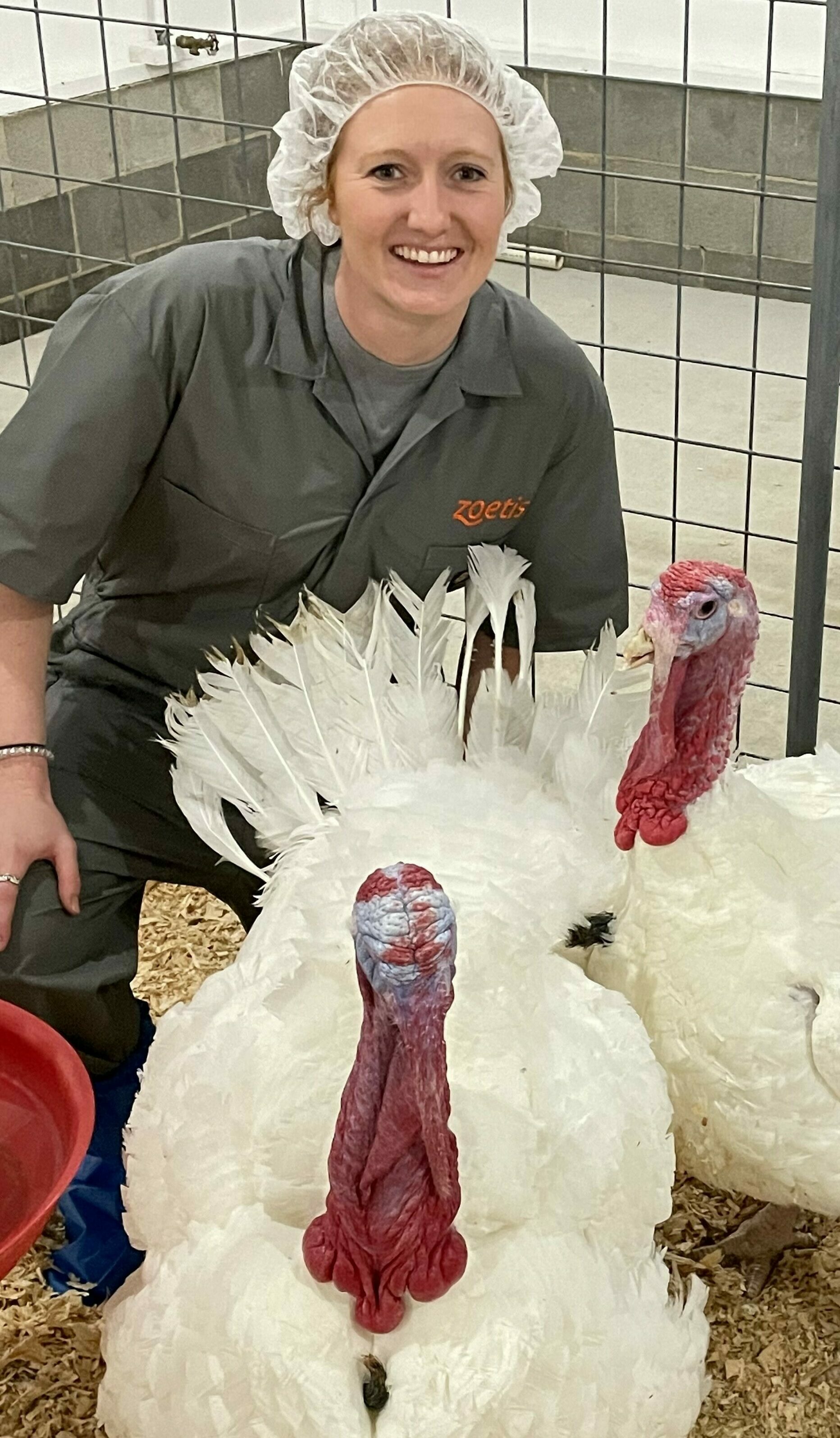 September 2023 - November 2022
---