Kuwait's Naif Poultry Upgrades its Hatchery
KUWAIT - Naif Poultry Co. has upgraded to AirStreamer technology from Petersime.
To stay ahead of demand, Naif Poultry Co., Kuwait's leading poultry processing plant, has just put a brand new hatchery into operation, expanding its capacity by 50 per cent. For this major investment, the company chose Petersime as its equipment partner, outfitting the new hatchery with the latest AirStreamerTM Bio-Response technology.

Naif Poultry Co. is delighted to have a partner on board that adds real value to its business.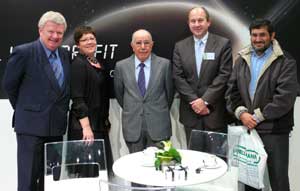 From left to right: John Vanackere (Area Sales Manager, Petersime), Carine Nachtergaele (Internal Sales Manager, Petersime), Bader Al Bazie (President, Naif Poultry Co.), Michel De Clercq (Managing Director, Petersime) and Mishal Al Bazie (Deputy General Manager, Naif Poultry Co.)