World Premiere of Petersime BioStreamer Incubators
EU - The first of Petersime's BioStreamer incubators have been installed with Het Anker in the Netherlands and Western Brand in Ireland.
Last month, the first two hatcheries in the world took their delivery of BioStreamerTM technology, member of Petersime's latest, most advanced generation of S-line incubators.

Het Anker, one of the leading Dutch layer hatcheries, owned and operated by the Vroegindeweij family, has been producing layer chicks since 1967.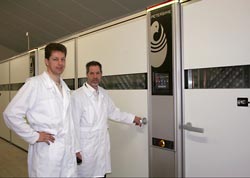 Rinie Vroegindeweij (hatchery manager) and Jan Vroegindeweij (Director) in front of the new BioStreamer incubators at Het Anker
Jan Vroegindeweij said: "When we decided to upgrade and expand our hatchery in Ochten, we carefully reviewed and considered the leading incubator manufacturers. We are very enthusiastic about Petersime's latest generation of S-line incubators. What attracted us most about the S-line was its full focus on chick quality and uniformity, high energy efficiency, superior cleanability and the lowest running costs on the market. On top of these benefits, Petersime and its local distributor, Peja, both have outstanding customer service records.

"We went for the BioStreamer model, which comes with the auto-pilot functionality based on Petersime's Embryo-Response Incubation technology. Over the next few months, we will be installing 21 BioStreamer setters with capacities of 57,600 and 38,400 eggs for a total weekly output of 200,000 layer chicks."

Irish hatchery, Western Brand, is the first broiler hatchery in the world to be fully equipped with this new incubation technology. The company is building a new broiler hatchery in Cappoquin for an initial setting capacity of 36 million broiler hatching eggs per year.

Eugene Lannon, owner and Managing Director of Western Brand, commented: "We travelled all over Europe to visit multiple hatcheries with different makes of incubators. After reviewing our options, Petersime stood out as the obvious choice, both for its incubators as well as the total package it offers including air handling and heat recovery systems. The BioStreamer, with its unique Embryo-Response Incubation technology, provides Western Brand with a clear advantage as an integrated broiler company.

"Since we grow and slaughter our broilers ourselves, we have much to gain from the improved broiler performance of our chicks in terms of daily weight gain, liveability and feed conversion. We were also particularly impressed with the professionalism and experience of Petersime's project team in designing and supplying the total technical package including the air handling systems, heating and energy recovery systems, and electrical and hydraulic installations."