New Petersime Customer Centre Officially Inaugurated
BELGIUM - After two years' worth of planning and construction works, Petersime is proud to announce that the factory expansion at its headquarters is now completely finished.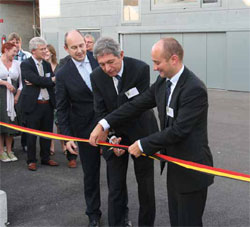 Petersime has officially inaugurated its brand new Customer Centre as well as its extended and modernized production facilities. During the inauguration ceremony, conducted by Mr Michel De Clercq (left), the ribbon was cut by Mr Peter Frank, CEO of the Thyssen-Bornemisza Group (TBG) (centre) and by Mr Henk Heyerick, Mayor of Zulte (right).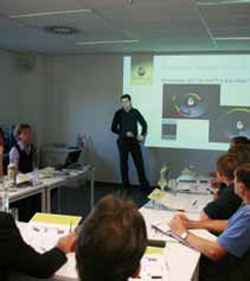 The new Customer Centre holds excellent training and meeting facilities.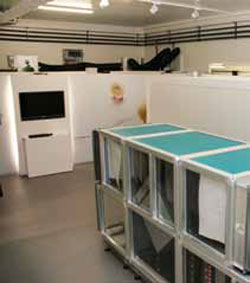 From the raised coffee room, adjacent to the showroom, visitors get a nice view of the complete setup, including a demo model of a HVAC unit and the top of the incubators.
On 30 September, the company puts the icing on the cake by officially opening its brand new Customer Centre in the presence of the Mayor of the local commune, the upper management of its shareholders and its major Belgian customers, suppliers, and scientific partners.

The inauguration event was attended by representatives of the government of Zulte, the upper management of our shareholders (FPS and TBG), and Petersime's major Belgian customers, suppliers, and scientific partners. After the official cutting of the ribbon, the guests enjoyed a guided tour through the Customer Centre and the production facilities and a reception.

Petersime's expansion project, aimed to double the production capacity, was launched in 2009. The new production and logistical facilities entered into service in May 2010.

Construction of the new Customer Centre started shortly after that. The state-of-the-art 840 m2 two-storey building features a splendid showroom, a training centre, a meeting room, and a coffee room. On the first floor, the offices of the Service, Quotations and Project departments are located.

During his speech, Mr Michel De Clercq, Managing Director of Petersime nv, thanked all employees, suppliers and stakeholders for their commitment.