Petersime Focuses on North Africa
ALGERIA, MOROCCO & TUNISIA - North Africa represents an important market for Petersime. The company has been able to become the market leader in the French–speaking part of this sales area, thanks to its distributor, Société Cidape.
Algeria, Morocco and Tunisia are key countries for the hatchery market. Population and meat consumption in these countries are on the rise. Moreover, poultry meat enjoys a privileged position, since pork meat is absent, cattle are hard to breed, and mutton is far more expensive than poultry meat or eggs. These countries have a strong turkey industry as well, with consumption increasing significantly during Ramadan.
Algeria
Nearly every Algerian industrial hatchery, private or public, runs on Petersime equipment. Examples are Seravic, Messani, Avibel, and Zizi. The two major Algerian broiler producers, Hubbard and Arbor Acres, have built grandparent breeding centres. Hubbard's 2,000 m2 hatchery is equipped with Petersime incubators and produces about 1.5 million breeders a year.

Algeria's turkey market is estimated at 10 million poults a year, with the share of importations on the decrease. Petersime has equipped three major Algerian turkey hatcheries: Grands Couvoirs de Tizi Ouzou, Coq Hodhna and A.V. Khider.

In addition, there is an increasing demand for dedicated HVAC equipment. Petersime, with its extensive expertise in this field, is ready to respond to this trend. The first Petersime turnkey hatchery project was ordered by the Marhaz hatchery.
Morocco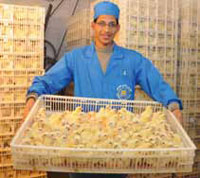 Employee at Ouakkaha hatchery, proudly presenting some top-quality day-old chicks (Photograph: G. Le Boucher)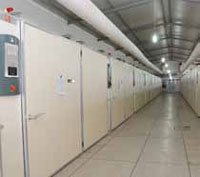 Setter room of the Ouakkaha hatchery, producing 1 million day-old chicks a week (Photograph: G. Le Boucher)
Morocco's poultry industry is more concentrated: there are fewer companies but they are more integrated. A strict hygiene charter has been implemented.

The country's major poultry groups own hatcheries as well as large feed producing factories. The family- run company Mohemmane, for instance, owns two feed producing factories that produce 1.2 million tonnes yearly, and two hatcheries. These are equipped with Petersime Conventional 576 incubators with Vision controllers and produce 1.5 million day-old chicks a week.

Likewise, the Ouakkaha group produces about 1 million day-old chicks a week, and exports eggs and chicks to sub-saharan Africa.

Finally, Moroccan turkey production has increased dramatically. Agroatlas, Couvdinde, and Maroc Dinde, Morocco's specialised turkey hatcheries, are all equipped with Petersime Conventional 384 incubators with Vision controllers.
Tunisia
A major Tunisian poultry player is the Poulina Group, founded by Mr and Mrs Ben Ayed in 1966. The group owns hatcheries, equipped with Petersime incubators, as well as feed producing factories, slaughterhouses and poultry equipment production units.

Poulina also started the country's turkey production. Since 2008, Tunisia is self-sufficient in the production of poults.

Until recently, Tunisia had a quota system, which has been abandoned after the fall of the old regime. This allows for the poultry industry to further develop.

At the moment, Petersime is supplying Petersime Conventional 576 incubators with Vision controllers to the public company Sotavi. Furthermore, sales agreements have been reached with private companies such as Chahia, Taissir, and Sopa.