Vencomatic Wins Koning Willem I Award
NETHERLANDS - On Tuesday evening, 8 May, Vencomatic received the prestigious 'Koning Willem I' award 2012, in the category Small and Medium Sized Enterprises. During a festive award ceremony, at the Floriade in Venlo, Cor van de Ven received this prestigious award for entrepreneurship from the hands of His Royal Highness the Prince of Orange.
The 'Koning Willem I' award is the Dutch award for outstanding entrepreneurs, and often reflected upon as the Oscar for Dutch entrepreneurs. Every two years the award is granted. The objective of the 'Koning Willem I' Foundation is to provide the national economy with new impulses and to subsequently improve the image of the Dutch business industry. The assessment of the jury focussed on the following aspects; guts, drive, sustainability and perseverance.

In the report of the jury the board of the 'Koning Willem I' Foundation expresses its appreciation of the fact that Vencomatic is conscious of its footprint on this earth. Vencomatic develops and tests the required knowledge within its own organisation, in order to develop innovative products which contribute to animal friendly and sustainable housing equipment for poultry worldwide. This makes Vencomatic internationally unique and successful.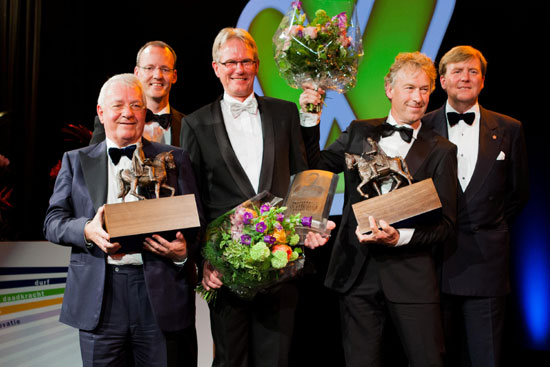 From left to right: Mr. van der Leegte (VDL Groep BV) Mr. Prof. dr. K.H.W. Knot (President of the Dutch Bank en chairman of the 'Koning Willem I' Foundation), Mr. Evers (Norm-teq BV), Mr. van de Ven (Vencomatic BV) en H.R.H. de Prince of Orange