Atria & Petersime Team Up for Major Hatchery Upgrade
FINLAND - One of the leading Finnish food processing companies, Atria PLC, has recently decided to substantially upgrade and expand its broiler hatchery located in Seinäjoki, Finland. Petersime will be supplying S-line BioStreamer incubators as well as a brand new HVAC system.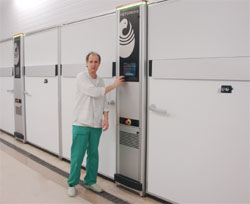 Mr Eckhard Nauholz, Hatchery Manager of Atria's Seinäjoki hatchery, in front of a BioStreamer™ 8H hatcher
The entire upgrading and expansion project is aimed at a final setting capacity of 40 million hatching eggs per year, with the possibility to add machines in the same building for an extra capacity of 6 million eggs per year. In four phases, Atria will be replacing all of its current incubation equipment with 23 BioStreamer™ setters and 19 BioStreamer™ hatchers. They also purchased a new Petersime HVAC system. Atria will continue producing day-old chicks during the entire project.

The Petersime Project department will closely follow up all four phases. Moreover, Atria signed up for the Petersime Hatchery Guidance ProgrammePLUS, so as to have the upgraded hatchery fully operational within the shortest possible period of time.

Completion of the final phase of the project is planned in March 2013. "Continuing to produce day-old chicks while the incubators are gradually being replaced will be quite a challenge. However, we have great confidence in Petersime's experience and know-how," explains Mr Harri Rosenberg, Project Manager at Atria.