MSD Animal Health Highlights New Advances at 3rd Asian High Quality Poultry Congress
MALAYSIA - Recently, MSD Animal Health held its 3rd Asian High Quality Poultry Congress in Melaka, Malaysia, bringing together a wide range of experts to discuss the latest advances in poultry production, with a focus on hatchery management, climate control, vaccination technologies and animal welfare.
The Congress emphasised how getting an early start on disease control can help producers make their businesses more profitable.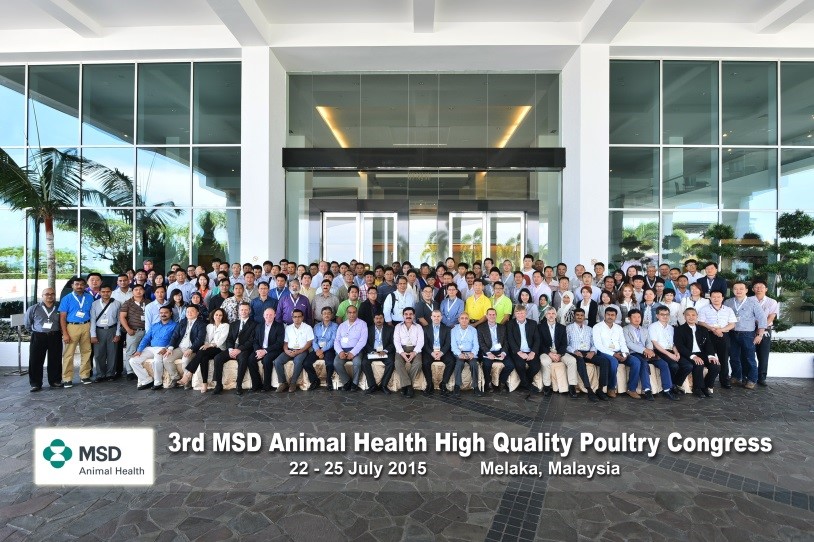 "We are very pleased to be given the opportunity to serve the poultry industry and proud to be the partner of choice helping our customers feed the growing protein demand of a rising global population, especially in the Asia Pacific Region," said Delair Bolis, Global Poultry Marketing Lead, Executive Director at MSD Animal Health.
Speakers at the High Quality Poultry Congress included:
Dr Marleen Boerjan (Director, Pas Reform, the Netherlands), who explained how what is done in the hatchery might affect chick quality, and outlined a framework for ensuring chick uniformity and improving 7 day body weight.
Tommy H. Krogh (SKOV, Denmark), who shared guidance for optimizing climate control, including providing a stable and uniform environment, and stressed the importance of careful observation of birds' behaviour, which provides essential information for better environmental management.
Dr Mark Jackwood (Professor, University of Georgia, USA), who highlighted the importance of surveillance in managing respiratory disease in poultry - especially variant infectious bronchitis.
Luciana Belenton (Director, Grow-out, Cargill China), who discussed how promoting animal welfare can lead to improvements in meat quality and business profitability.
Fernando Vargas (Global Technical Director, MSD Animal Health), who addressed industry demand for better flock uniformity, explained how the causes of unevenness can be numerous and traced back to live production, and described how MSD Animal Health is prepared to assist in improving the process.
Many industry professionals also shared their success stories about how MSD Animal Health's solutions have positively improved disease control, feed efficiency, and meat quality:
Bill Hewat (Director, International Live Production & Veterinary Services, Tyson) provided his perspective that a comprehensive to low level, steady-state of coccidiosis cycling is the goal of good coccidiosis control, and explained how the use of MSD Animal Health's COCCIVAC®-B (with ENRADIN®) has been essential in his operation for intestinal health improvement.
Jagbir Dhull (Managing Director, Skylark Hatcheries, India) and Dr. Angelo Paolo L. Obregon (GAMA Foods Corporation, Philippines) explained how using INNOVAX® has improved their production process and performance.
Hassan Sarosh (Director, Quality Poultry Breeders, Pakistan) shared his experience with PROTECTOTYPE™ (NOBILIS® Ma5+4/91) and how it helped to solve production and respiratory issues due to variant infectious bronchitis challenge.
At the Congress, MSD Animal Health also introduced two new devices, the NOBILIS® Injector, an innovative semi-automatic and pneumatic device for day-old chicks and NOBILIS® Spray, a cabinet sprayer for the application of vaccines, as well as the Convenience Program Evaluation, a hatchery service that is a new addition to the company's Convenience Program, an initiative design to help poultry producers protect chickens against various diseases while achieving optimal vaccination standards, bird quality and performance goals. The Convenience Program Evaluation is designed to help producers implementing an early start on disease control to have a more profitable business.
It is focused on troubleshooting disease outbreaks by analysing the problem, developing a control plan, optimising management and vaccination processes, and maintaining the health of their poultry through the use of innovative and practical tools available through MSD Animal Health representatives via mobile devices and a toolkit.
Sponsored Article
---
Our Partners
---